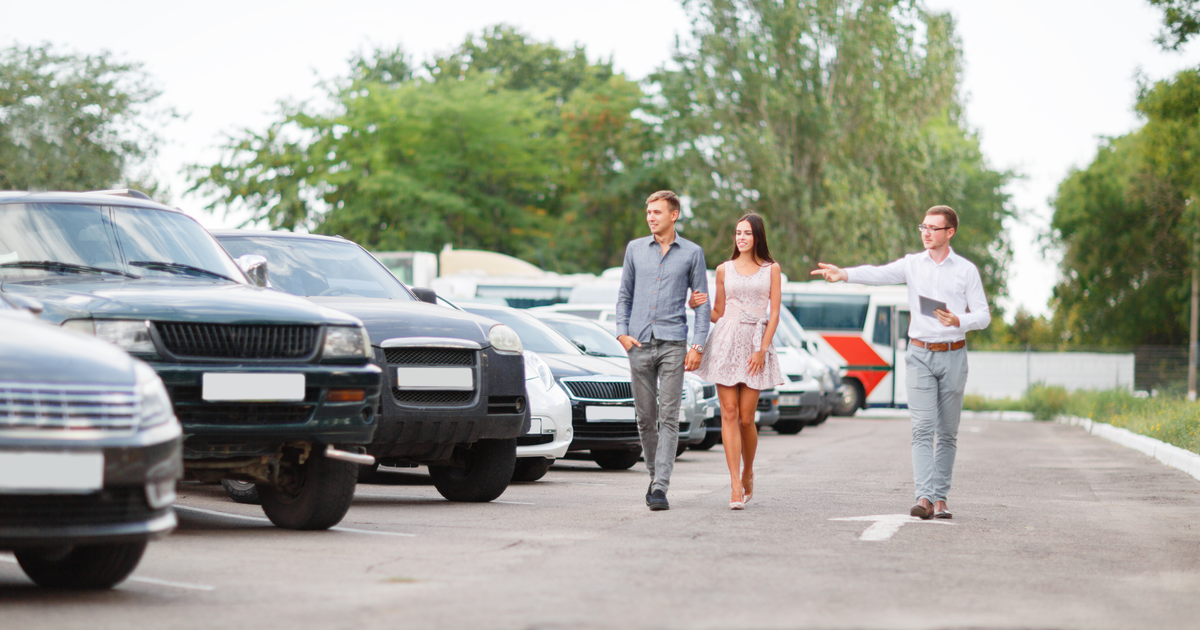 Buying a car comes with a lot of questions, like "how much can I afford" or "should I purchase new or used?
We always recommend shopping for your auto loan before purchasing to receive the best rate and to prepare before you enter a dealership.
It can be intimidating to talk to loan officers, so let us help you on your car buying journey by outlining a few questions you should be asking the dealership or the person selling the car. Not only is it beneficial for you to know this information about your future investment, but your lender might want to know as well.
Question #1: What's the vehicle history?
Always ask to see a vehicle history report. This report may be something you can find online, although a dealership is likely to provide it.
A complete vehicle history report will show any accidents the vehicle has been in, and any repairs that have been done on it as a result of the accidents. From fender benders to serious accidents, a vehicle history report will tell you everything you would want to know about a vehicle.
If you only do one thing before buying a used car, get a history report. You don't want to be relying on a vehicle that has been salvaged from severe flooding. When hurricanes roll through, they do a lot of damage, and in Houston, it was estimated that about half a million vehicles were destroyed in 2017. Electrical issues are difficult to chase down, not to mention the various other mechanical problems that come with a flooded vehicle.
Question #2: What is the maintenance history?
The maintenance history isn't always found in the history report. While some maintenance work will be logged there, other maintenance history information could be a little more difficult to find.
If you are buying from a dealer or previous car owner, you will be relying on their word to assure you the vehicle has met all of its previous maintenance requirements. You may want to consider having it inspected by a third party and have the dealer or owner perform the required maintenance before you drive it away.
If you are lucky, you will come across a car with a maintenance log or a list of receipts that have been kept to track the work that was done on the car.
Question #3: What are the quirks of the car?
Find out the quirks of the car. When you open the door, are the stops worn down allowing it to swing freely? Do the rear windows not roll down due to a wiring issue? Are the brakes super sensitive?
These questions are more important with older vehicles.
One of the benefits of buying used is someone has already discovered the quirks and may have attempted to correct them. Sometimes, the quirks aren't worth fixing and are just something to manage.
Find out if the quirks are the reason the car is being sold. Sometimes a seller may not be able to personally use the vehicle, or they may not know how to fix an issue. What you don't want is a vehicle that is being sold because a quirk is dangerous or prohibitive. Anything mechanical that has unexpected behaviors is something that needs to be addressed sooner rather than later.
If a quirk is prohibitive, it's time to look elsewhere for a vehicle. You want something reliable. Rear windows that refuse to roll down isn't prohibitive, but a transmission that doesn't always engage is a much bigger problem.
Question #4: How does it Drive?
Whether you are buying a new car or a used car from an individual: always take it for a test drive. This is second only to getting a vehicle history report on the list of things you should always do when buying a car.
Get in the driver's seat and linger there for a moment.
Turn on the car and take a mental note of how it sounded when you started it up. If you missed it, turn the car off and try again.
Is it a smooth start or did it just grind a little?
Listen to how it idles. Look at the gauges. Turn on the radio and listen to the speakers. You haven't actually driven the car anywhere, but it has already told you so much. You don't have to know a lot about cars to know how one should sound and feel.
Hit the road for a short drive. Get a feel for the steering, the brakes, the acceleration and how it shifts. If you don't feel comfortable making mental notes on your own, ask a friend or mechanic to take a ride with you. Gauge their reaction before, during and after the drive.
Question #5: Can I drive it to my mechanic?
You don't have to be a mechanical genius to find a good car, you just need to know one. Ask a private seller or dealer if your mechanic can either inspect the engine on the lot or at their shop during the test drive.
This will take a little pre-planning to accommodate the third party's schedule, but this step could save you money if the car you're considering has any major issues or concerns.
At the very least, take a video of the engine running and share it with your mechanic. It's not as effective as them actually inspecting the vehicle, but they might notice sounds or movements you'd miss.
After you've asked all the questions you need to ask the dealer, then you need to prepare for questions the credit union might have for you about the vehicle.
6 Questions the Credit Union Might Ask You
What is your monthly income before tax?
What are you other liabilities that you are currently responsible for, like mortgage, rent, student loans, etc.?
What is your credit score?
When are you planning to purchase?
What type of vehicle are you purchasing?
If it is used, how old is it? (Some lenders have different loan requirements for vehicles older than a certain age.)
6 Questions You Should Ask The Credit Union
Do you require me to purchase a vehicle through a licensed dealership?
How will my credit score affect my interest rate?
What is the best interest rate available, and could my interest rate ever change?
How much interest will I pay over the course of the loan?
What should my down payment be?
Are there any prepayment penalties for my loan?
If you are looking to get a new or used car soon call us at 405-235-3030 or 1(800) 678-5363 to see what WEOKIE can do for you. Also, check out our free guide about how to prepare for new car expenses as a recent graduate.
Federally Insured by NCUA