Online Banking
WEOKIE's FREE Online Banking lets you access your accounts online, 24 hours a day, seven days a week.
Plus, FREE access to your credit score - see more below.
With online banking, you can:
Check balances
Review your account history
Make loan payments
View copies (front and back) of your cleared checks
Transfer funds between your WEOKIE accounts
And much more
Not currently signed up for Online Banking?

CLICK HERE to Enroll Today
Make sure to add WEOKIE's app for mobile banking for your smartphone after you register for online banking.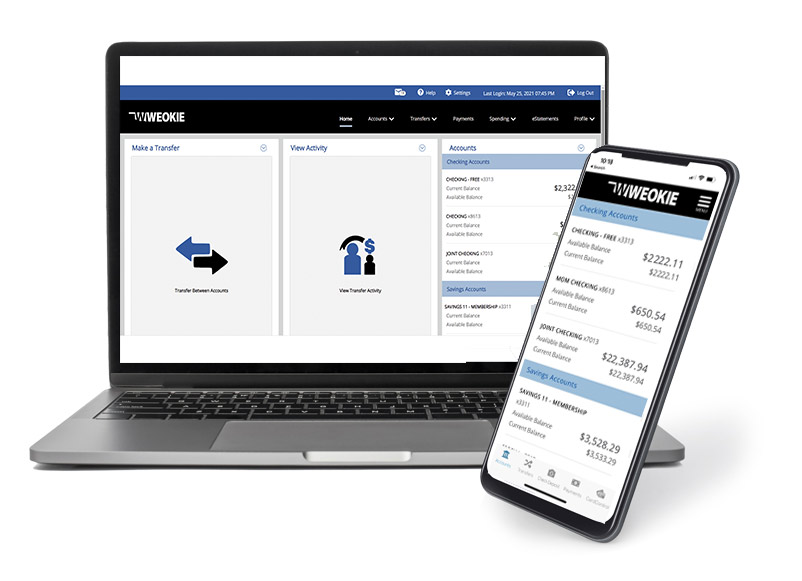 FREE Access To Your Credit Score
WEOKIE members may now view and monitor their credit score for FREE! Simply log in to online banking or mobile banking for an instant, at-a-glance breakdown.
At WEOKIE, we love providing our members with tools that make sense for their lives.
Free Credit Score ⋅ Free Credit Monitoring ⋅ Easy-To-Read Summary ⋅ Does Not Affect Your Score
Signing up is easy:
Simply sign in to Online Banking and tap the Accounts menu, scroll down and click "Credit Score".
Read and accept the terms and conditions of use.
Answer a few simple questions to verify your identity.
Once verified, you are set!
Not yet a WEOKIE Online user? Click HERE to enroll today.

CLICK HERE to view Frequently Asked Questions.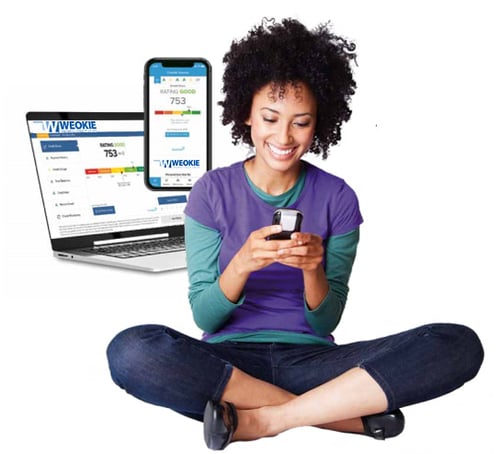 Pop-up Help
If you are experiencing problems with accessing your e-statements and other links in WEOKIE's Online Banking system, please check your setting for pop-ups.
You will want to select "always allow pop-ups from this site." Please see instructions on how to enable pop-ups on popular browsers.
Microsoft Internet Explorer
Select the Tools menu, then Pop-up Blocker, then Pop-up Blocker Settings. Add WEOKIE's Online Banking web address (https://weokie.e-creditunion.org/) to the allowed sites list.
Firefox
Select the Tools menu, then Options. In the Options window, select the Content tab. Select the Exceptions button next to Block pop-up windows and add WEOKIE's Online Banking web address (https://weokie.e-creditunion.org/) to the allowed sites list.
Safari
Select Safari at the top of the browser and select Block Pop-up Windows to remove the check-mark. You do not want a check-mark next to Block Pop-up Windows.
Chrome
At the top right, click Customize and Control Google Chrome, select Settings, at the bottom click Advanced. Under "privacy and security," click Site Settings. Click Pop-ups and redirects. At the top, turn the setting to Allowed or Blocked.
Learn what a HELOC is and how it can help you.


Find out how a HELOC is different from a home equity loan or refinancing.


Ready to meet with a lender? Contact a WEOKIE advisor today.



Federally Insured by NCUA.