Easy and convenient banking
From E-statements to bill pay and mobile banking, our services make your life a little easier.
Online Banking made simple
You'll love how easy it feels to manage your money on any desktop computer or smartphone. Choose the platform that's right for you!

Receive Instant Balances on Desktop or Mobile
Online Banking and Mobile Banking help you access your accounts online, 24 hours a day, seven days a week.

Pay Bills & Transfer Funds From Anywhere
Set your monthly expenses on autopilot and transfer your funds effortlessly from anywhere with an Internet connection.

Use Apple Pay, Google Pay, & Samsung Pay
With Mobile Payments, you can easily pay with your WEOKIE debit or credit card with just one tap or touch from your device.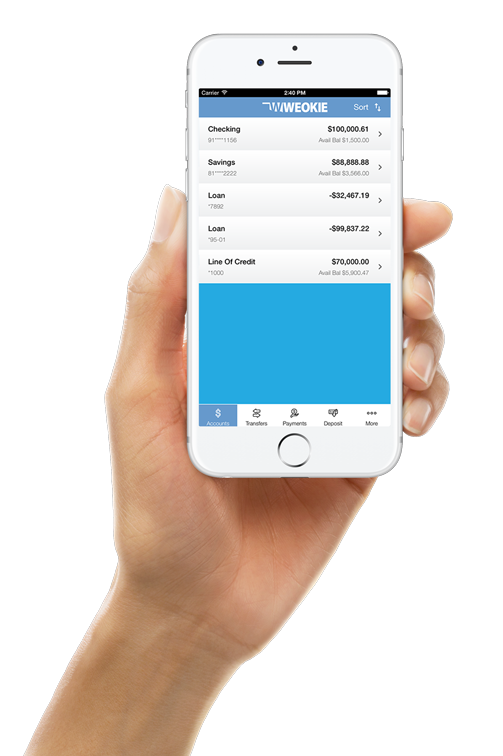 From the Financial Freedom Blog
Member Success Stories
Explore real examples of members we've helped save big to achieve financial freedom.
Chance came into WEOKIE to refinance his vehicle loan. He was paying 20% interest through the dealer.

WEOKIE was able to offer him our 1/2 off his first WEOKIE auto loan and lowered his interest rate to 3%. His monthly payments went from $419 a month to $274.

Over the life of the loan, Chance will save over $10,000.
Chance
Vehicle Loan Refinancing
Steven came in wanting to get a signature loan for several expenses. We noticed he had auto loan financed somewhere else.

We were able to refinance his auto loan and add the signature loan into it because he had equity in his auto.

We were able to lower his interest rate from 6.2% to 2.5% and since we added the signature loan, we saved him from getting a higher rate and two loans.

Steven ended up saving over $6,600.
Steven
Auto Loan Refinancing
We helped Kailey refinance her auto loan that she was paying 15.99%.

She was also able to lower her payments AND shorten the term of her loan.

WEOKIE was able to lower her interest rate to 3.99% saving her over $6,500 in interest.
Kailey
Auto Loan Refinancing
Aileen & Todd came in to refinance their auto loan and were also hoping to pay off some credit card debt.

We were able to get them approved and used their auto as collateral and dropped their rate on the auto from 22% and the credit card interest rate at 21% down to one payment and a new rate of 2.99.

Over the life of both loans they will save over $3,500.
Aileen & Todd
Credit Card & Auto Refinancing
Tina qualified for our 1/2 off her first auto loan at WEOKIE at a rate of 2.5% and refinanced her auto loan lowering her interest rate from 16.99%.

Tina saved over $6,800.
Tina
First Auto Loan