WEOKIE FINANCIAL GROUP
WEOKIE Financial Group is an alignment through LPL Financial (LPL), a registered investment advisor and broker-dealer (member FINRA/SIPC).
CLICK TO READ MORE about LPL Account Access
- or -
WATCH THIS VIDEO.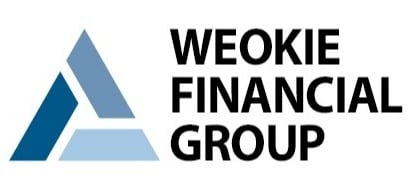 Our financial professionals will collaborate with you to develop a financial plan that aligns with your specific needs, experience, and time horizon.
For more information about LPL Financial, please visit www.lpl.com.

Insurance Planning

Retirement and Investment Planning

Education Funding

Estate Planning


Business Planning

Mutual Funds

Stocks/Bonds

Portfolio Management
Plan for a brighter future today with WEOKIE Financial Group!
Whether you're saving for your children's education, planning for your retirement, or securing your family's financial future; the professionals at WEOKIE Financial Group can help you find strategies to address your long-term financial objectives.
Invest for Your Future Today
Invest for your future with WEOKIE Financial Group's new online platform that combines the benefits of a personal financial advisor with sophisticated technology.
Through Guided Wealth Portfolios (GWP), you still get your advisor's experience and expertise, but with the added convenience and transparency of an automated investing solution through an online platform with 24-7 access to your accounts.
Start investing for your future today!

Please contact
Kirk Darnell, Financial Advisor,
at
405-415-9734
or
kirk.darnell@lpl.com
.
Attend as many virtual workshops as you like. You'll learn the answers to questions, including:
The important rules of the road for receiving Social Security.
How can conservative investments help you face today's economic risks?
What sources of income should you draw from and when?
How to use annuities to guarantee income for life.
How does behavioral finance affect investment decision-making?
Space is limited, so make your reservations today . Please contact Kirk Darnell, Financial Advisor, at
405-415-9734 or kirk.darnell@lpl.com with any questions about the virtual workshops.
Fixed annuities are long-term investment vehicles designed for retirement purposes. Gains from tax-deferred investments are taxable as ordinary income upon withdrawal. Guarantees are based on the claims-paying ability of the issuing company. Variable annuities are subject to risk and may lose value.
Workshops are educational only and are not investment advice. If you need advice regarding your financial goals and investment needs, contact a financial advisor. MGA-3216705.1-0820-0922 © TruStage™
The LPL Financial registered representatives associated with this website may discuss and/or transact business only with residents of the states in which they are properly registered or licensed. No offers may be made or accepted from any resident of any other state.
Check the background of investment professionals associated with this site on
FINRA's BrokerCheck.

Securities and advisory services are offered through LPL Financial (LPL), a registered investment advisor and broker-dealer (member FINRA/SIPC).
Insurance products are offered through LPL or its licensed affiliates WEOKIE Federal Credit Union and WEOKIE Financial Group
are
not
registered as a broker-dealer or investment advisor. Registered representatives of LPL offer products and services using WEOKIE Financial Group, and may also be employees of WEOKIE Federal Credit Union. These products and services are being offered through LPL or its affiliates, which are separate entities from, and not affiliates of WEOKIE Federal Credit Union and WEOKIE Financial Group. Securities and insurance offered through LPL or its affiliates are:

WEOKIE Federal Credit Union ("Financial Institution") provides referrals to financial professionals of LPL Financial LLC ("LPL") pursuant to an agreement that allows LPL to pay the Financial Institution for these referrals. This creates an incentive for the Financial Institution to make these referrals, resulting in a conflict of interest. The Financial Institution is not a current client of LPL for brokerage or advisor services. Please visit http://www.lpl.com/disclosures/is-lpl-relationship-disclosure.html for more detailed information.
LPL advisors do not offer tax advice. Please consult a tax professional.
Guided Wealth Portfolios (GWP) is a centrally managed, algorithm-based, investment program sponsored by LPL Financial LLC (LPL). GWP uses proprietary, automated, computer algorithms of FutureAdvisor to generate investment recommendations based upon model portfolios constructed by LPL. FutureAdvisor and LPL are non-affiliated entities. If you are receiving advisory services in GWP from a separately registered investment advisor firm other than LPL or FutureAdvisor, LPL and FutureAdvisor are not affiliates of such advisor. Both LPL and FutureAdvisor are investment advisors registered with the U.S. Securities and Exchange Commission, and LPL is also a Member FINRA/SIPC.
All investing involves risk including loss of principal. No strategy assures success or protects against loss. There is no guarantee that a diversified portfolio will enhance overall returns or outperform a non-diversified portfolio. Diversification does not protect against market risk. References to tax strategies that the GWP service investment management considers in managing accounts should not be confused with tax advice. LPL Financial does not provide tax advice. Clients should consult with their personal tax advisors regarding the tax consequences of investing.