Notifi Alerts
Notifi Real-Time Alerts make it easier than ever to stay on top of your finances with alerts sent your way; whichever way you choose.
Notifi Alerts
When it happens, you'll know. Talk about a feeling of security.
We're always looking for ways to make things easy for you, and we know you'll love our new real-time alerts.
Staying on track with your finances has never been easier. Would you like to know if your account falls below a specific amount? Do you want to receive an alert every time you get a deposit, or when a check or debit card transaction clears your account?
Available to all WEOKIE Online Banking and Mobile Banking users, Notifi Alerts will let you know when something important happens in your account, in real-time. We understand that our members are busy and may forget to call or login, so let us Notifi you.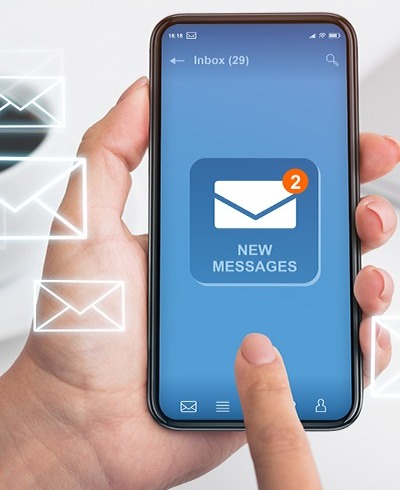 Notifi: Real-Time Account Alerts
Choose your alerts.
Choose from a selection of real-time account activity alerts and receive notifications via email, text*, online banking or even automated messaging (push notifications) through your WEOKIE Mobile Banking App.


Account Balance
– Know when your account balance falls below a certain pre-set threshold determined by you.


Transactions
– Know if a transaction has been posted to your account.


Payments
– Know when your loan payment has been received.


Other Alerts
– Know when your certificate maturity date is approaching, or any other additional system notification.
Delivered the way you want.
Messages are sent using any of the delivery methods you choose.

Text -
Receive Notifi Alerts through text message* on your smartphone or other supported devices.

Email -
Receive email alerts about your account activity.

MOBILE BANKING APP
- Receive notifications from your Smartphone or other supported device activated through our Mobile Banking App.
*All Notifi activity alerts will originate from short code 48179. You will never receive any Notifi Alerts from any other text messaging source. If you choose not to participate in this service, you may also reply 'STOP' to be removed from alerts in the future.
Setting Up Notifi Alerts
Setting Up Notifi Alerts for the First Time
Login to WEOKIE's Online or Mobile Banking.
Visit the Menu in the top right corner.
Open the Profile dropdown and select Notifi Alerts.
Accept the Terms & Conditions and enter the verification code that was emailed to you.
Go to Manage Recipients to set up additional email address and/or phone numbers.
Go to Manage Alerts to choose alerts.
Enable Real-Time Push Notifications
Log into the app using your username and password, or Face ID/Touch ID.
After logging in, users will be brought to their Account Summary page. To enable Notifi alerts, tap on the "Menu" button at the top right of the screen.
Under the Profile dropdown, tap on the "Notifi Alerts" button.
Tap on the Manage Alerts button and select the alert you wish to receive push notifications for.
Under Recipients, check the box next to Push Notification
Depending on your mobile operating system, users may be asked to confirm that they would like to enable push notifications. To enable them, select "Allow."
You'll now receive a message the moment any of your alerts are triggered. It's that simple. With Notifi Alerts you'll always know exactly what's happening with your money, and you can watch for suspicious activity.