WEOKIE's Mobile Banking App
Mobile Banking is a safe and secure way to access your WEOKIE accounts with any smartphone.
Just download the WEOKIE app to your smartphone or tablet.
Experience enhanced integration with WEOKIE's existing Online Banking system.
Note: you must already be registered to use WEOKIE's Online Banking.



Features of Mobile Banking:
- Check account history
- Receive instant balances
- Pay Bills
- Transfer funds
- Link accounts
- Deposit checks

PLEASE NOTE that while use of WEOKIE Federal Credit Union Mobile Banking is provided FREE OF CHARGE, standard text messaging fees from your wireless provider (AT&T, Sprint, T-Mobile, Verizon, or other) will apply, and thus, the actual cost of using this service is solely dependent upon the wireless provider and the wireless calling plan (including messaging and Internet access) for each person's cell phone or mobile device.


---
WEOKIE offers FREE access to your credit score
WEOKIE members may now view and monitor their credit score for FREE! Simply log in to online banking or mobile banking for an instant, at-a-glance breakdown.
At WEOKIE, we love providing our members with tools that make sense for their lives.


Free Credit Score ⋅ Free Credit Monitoring ⋅ Easy-to-read credit summary ⋅ Does not affect your credit rating
Signing up is easy:
1. Simply sign in to Online Banking and tap the Accounts menu, scroll down and click "Credit Score".
2. Read and accept the terms and conditions of use.
3. Answer a few simple questions to verify your identity.
4. Once verified, you are set!
Not yet a WEOKIE Online user? Click HERE to enroll today.
CLICK HERE to view Frequently Asked Questions.


---
Mobile Deposit FAQ
New Mobile Deposit rule:
The check must be endorsed with your signature and "For Mobile Deposit only".
Please see example: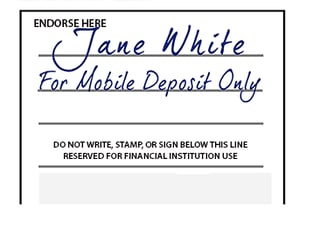 What is Mobile Deposit?
Mobile Deposit is a mobile application that allows you to make a deposit by taking a picture of the front and back of the check with your mobile device. This application is currently available on iPhone and Android devices.
How is a deposit made?
The Mobile Deposit application is accessed through WEOKIE's Mobile Banking application. Tap the deposit icon and follow on-screen instructions to engage the camera, take pictures of the front and back of the check, and enter required check and account information. The images are immediately analyzed and accepted if processing standards and risk factors are met.
Do I receive a receipt for the deposit?
Yes, you will receive a confirmation on the device. An additional email receipt is generated if an email address is provided during the deposit.
What types of checks can be scanned for deposit?
New Mobile Deposit Rule: The check must be endorsed with your signature and "For Mobile Deposit only".
Only single-party domestic checks made payable to the owner(s) of the account may be scanned for deposit with Mobile Deposit. Image quality issues can cause a check to be rejected. You are advised to retain the original check for 95 days and then securely destroy it.
The following is a list of unacceptable items that may not be scanned and deposited with Mobile Deposit:
WEOKIE Credit Union checks drawn on your own account – Online deposits of this nature may subject you to criminal prosecution.

Third Party Checks – Checks payable to someone else, endorsed and signed over to you.

Incomplete Items – Checks that do not contain signatures of the maker, endorsement signatures, or that are missing any other required information.

Non-Negotiable Items – The online deposit of any item stamped with a "non-negotiable" watermark is PROHIBITED. Online deposits of this nature may subject you to criminal prosecution.

Returned Checks – Any check that you deposit that is returned to us not payable as a result of insufficient funds, stop payment, or other related reasons.

Altered Checks – Any check that contains evidence of a change (corrections fluid, crossed out amounts, etc) to information on the face of the check.

Foreign Checks – Any check that is issued to you and drawn on a financial institution in another country (Canada, France, etc.)

Stale Dated Checks – Certain checks contain instructions such as "Void 90 days after issue date." If no instructions are contained, then the check is stale 6 months after the issue date.
When will my deposit be credited to my account?
The total amount of deposits made with Mobile Deposit less any holds that apply, up to your available deposit limit, will be immediately credited to your account. There could be times that the program may flag a deposit for manual review by credit union personnel (i.e. image is not clear when received at the credit union, etc.). If this happens, you will see the deposit under the Deposit History tab as "Submitted Deposit" and you will not see the deposit reflected in your account until a credit union representative reviews and approves the deposit.
The manual review process will occur on:
The same business day for manual review items submitted before 5 p.m. CST, or

The next business day for manual review items submitted after 5 p.m. CST on a normal business day (Monday through Friday, excluding holidays) or those submitted on a weekend or holiday.
How will I be notified if my deposit is not accepted?
The deposit history on the mobile phone will reflect any adjustments to your deposit. A credit union employee will attempt to contact you by phone and/or email.
What type of accounts can I deposit to using Mobile Deposit?
Mobile Deposits can be made to personal checking, savings or money market accounts.
Can I deposit to multiple account types during the same session log on?
No.
Is there a limit to how many deposits I can make via Mobile Deposit?
Yes, the following table outlines the limits.
| Deposit Limits | Transaction Limit |
| --- | --- |
| Calendar Day Limit | 5 |
| 7-Day Limit (last 7 consecutive calendar days) | 35 |
| 30-Day Limit (last 30 consecutive calendar days) | 150 |
How do I get a copy of my deposit?
Click on the Deposit History tab at the top right corner of the Remote Deposit page and a listing of your scanned deposits will display. Select Deposit History to view the Deposit History screen. Select the desired deposit to view the front/back copy of the check along with the deposit details (Total Amount, Transaction Date, Submitted Amount, Adjustment Amount, Current Amount).
The time on my computer and the time on my deposit do not match, is something wrong?
The time stamp on the deposits is in Pacific Standard Time (PST). The time on your computer will reflect the time zone in which you reside.
What should I do with the check once it has been scanned?
Please store your check(s) in a safe place for 95 days from the date of your deposit. In the event of a deposit dispute, WEOKIE Federal Credit Union may require presentation of the original check to settle the dispute. After 95 days, destroy the check using a secure data destruction method (i.e. shredding).