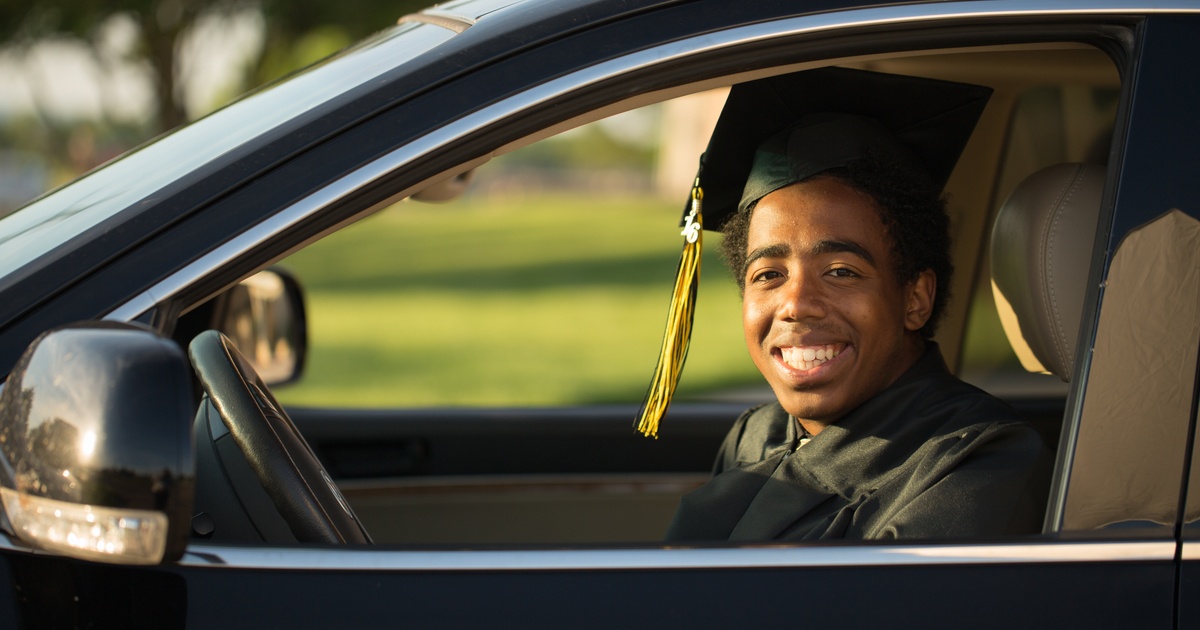 You have your cap and gown stored away, and the fear of that forgotten assignment has finally faded. What's next? Find a job? Visit family? Have some fun?
Almost everything we do in Oklahoma requires reliable transportation including finding a job or visiting family. It may be time to start car shopping, but a big purchase after years of accumulating student loan debt can feel overwhelming.
There are a few things to keep in mind when looking for a new vehicle, and there are plenty of resources aimed at helping new graduates hit the ground running. That's why we are here to give you some advice and tips on buying a new car after graduation.
Tip #1: Check Your Credit
Before you make any big-ticket purchases, you need to check your credit. As a recent grad, you may find your credit history to be a little different then you had hoped. Keep in mind: student loans don't always help give you credit history right away.
Having a credit card with a low limit before you start shopping for a car can help boost your credit ahead of schedule. Low to no credit history doesn't mean you can't get a car.
Knowing your credit score early on will let you catch any errors that might need to be corrected.
Credit checks are easy and free. Go to www.annualcreditreport.com to get your free report from all three bureaus.
Tip #2: Set a Budget
If you haven't set up a budget yet, now is a great time to start. Consider all of your living expenses, loan payments and entertainment funds when building your budget. You are looking for how much you have extra each month for a car payment.
Don't consider future jobs and their pay into your budget. Only count the money you are earning right now. When you get that nice job with the corner office, rework your budget.
Tip #3: Start Saving Now
Buying a car costs money, and not all of it is given to the dealer and lender. You are going to need some money for a down payment, insurance and tags.
The best thing you can do is start saving money each paycheck. Set back $100 per check if you can. It will quickly add up to the money you need to get on the road. If you can save more now, you will be essentially paying yourself in the future.
Tip #4: Consider Buying Used
When you graduate, you feel on top of the world. There is so much that you want to do and see, which is why you want a car in the first place.
Buying a used vehicle allows you to get a quality vehicle that has all of the features you want, with a lot less depreciation. Sure, it may be a little more worn, but as long as the engine works great, you are good to go.
Tip #5: Don't be Afraid of Buying Brand New
Sometimes it's good to splurge on yourself if the budget allows. You have spent several years cooped up, studying and preparing. Now it's time to relax and celebrate.
Most dealerships want to share the celebration with you, some offer recent grads anywhere from $500 to $1000 in discounts when you show your diploma.
When you buy new, you will receive some warranties that ensure your car is in working order, leaving you worry-free.
Tip #6: Consider Other Cost-Saving Strategies
If you're buying a new or used car, there are plenty of ways to save by doing a little upfront research. If you spend a lot of time on the road, then a gas efficient car or hybrid could save you money in fuel costs. Buy what fits your needs first and foremost.
You can also do research on what types of cars are the cheapest to insure, and which ones are less expensive to fix.
Tip #7: Research Dealers
You know what car you want, but do you know where you want to get it? New or used, you have options available to you.
Go online and search for dealers in your city that are a short distance from your home. Research the reviews and find the top rated dealers. Expand your search to a nearby town, or even expand your search to the state. If you are near another state, there is nothing stopping you from buying there, just keep in mind any extra costs involved.
Remember, you aren't obligated to buy from the dealer down the road. You are allowed to walk out of a dealership without taking their deals right away. You are shopping for what is best for you and your budget.
Tip #8: Always Shop for Financing
After all of this, it's time to get into the driver's seat. But wait; there is one more thing you need to have checked off your to-do list: get financing.
If you are a recent grad, you may be able to get some special offers to lower your interest rate. Cash in on these specials by checking out several different places. The dealer may have decent rates, but you may be able to beat their offers by going to your local credit union.
WEOKIE offers the best rates in the area. Because we operate to the benefit of our members rather than to the benefit of shareholders, our personalized loans are tough to beat.
If you are looking to get a new or used car soon call us at 405-235-3030 or 1(800) 678-5363 to see what WEOKIE can do for you. Also, check out our free guide about how to prepare for new car expenses as a recent graduate.
*See a WEOKIE rep for details. Federally Insured by NCUA