Ultimate with BaZing Checking Account
When you open WEOKIE Ultimate with BaZing Checking Account, you gain amazing benefits. That includes deals at stores and restaurants in your area and across the country, along with other services like cell phone protection.

CHA-CHING! IT'S A WEOKIE THING.
EARN UP TO $200*
When Opening a NEW WEOKIE Checking Account.
*Restrictions apply. See link for details.
WEOKIE's Premier Checking Account:
Ultimate with BaZing Checking
Save More. Worry Less.
Are you a foodie that loves to check out new restaurants? Look for deals when you go shopping?

BaZing provides online and mobile coupons that provide discounts for all of these and more at local retailers and national chains. And with BaZing's Health Savings Card you can even save on prescriptions, eye exams, frames, lenses, and hearing aids!
When you sign up for Ultimate with BaZing Checking, you can save on nearly any type of purchase you need to make. Your savings will add up very quickly.
Have you ever been a victim of identity theft? Have you ever experienced unknown purchases on your debit or credit card?

Have you ever needed a jump-start while away from home or damaged your cell phone? When you choose Ultimate with BaZing Checking, you'll never have to worry again. We have you covered.
Roadside Assistance. Available 24/7 with up to $80 in covered service charges.

Travel Accidental Death Coverage. $10,000 for peace of mind for the unexpected.

Cell Phone Protection. Receive up to $400 per claim ($800 per year) if your cell phone is broken or stolen.

Identity Theft. Includes payment card fraud resolution, $2,500 in personal identity theft benefit, and identity resolution.

$6.95 per month.

Avoid the $2 monthly paper statement fee by opting for paperless e-Statements online.
Other terms and fees may apply.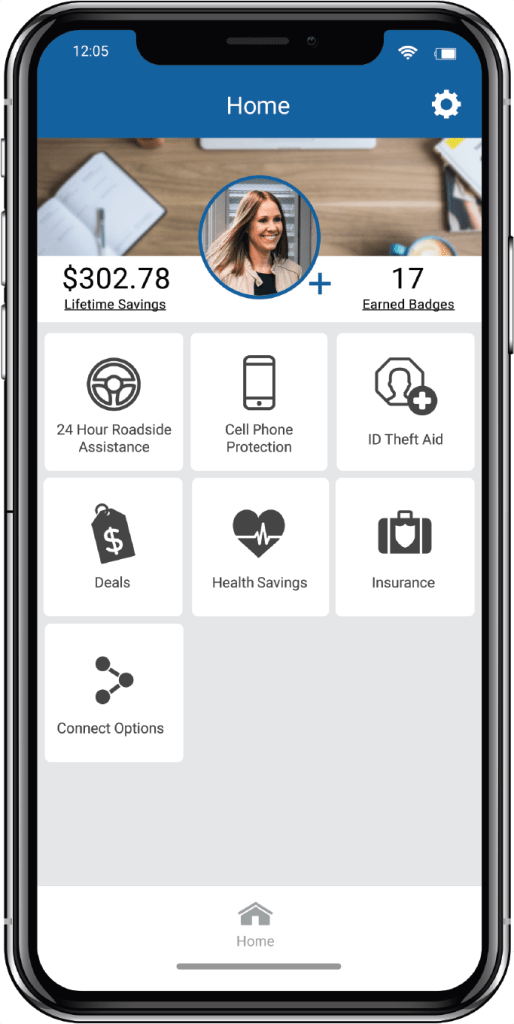 ID Theft Aid
A host of identity products to keep you safe.


Cell Phone Protection
Phone broken or stolen? You're covered with repair or replacement.


Roadside Assistance
Available 24/7 and free to use, covers up to $80 in covered service charges.
BaZing Savings
Shop local, save local. Discover discounts and national retailer deals.


Health Savings
Save money on prescriptions, eye exams, frames, lenses and hearing services.


Billshark
Bill negotiation and subscription canceling service.
With every WEOKIE checking account you get:
FREE Visa Debit Card

FREE ATM transactions at more than 55,000 ATMs

FREE 24/7 secure online & mobile banking services
Send and receive money to/from other WEOKIE Members/accounts

Account alerts to help manage your money and avoid fees

Fraud Risk Protection – 24-hour monitoring of WEOKIE debit cards

Unlimited Check Writing

Unlimited Debit Card Usage
Lower Overdraft and NSF Fees
To assist Oklahomans struggling with financial hardships, WEOKIE was the first financial institution in Oklahoma to announce the lowering of overdraft and NSF charges from $27.50 per occurrence to $15 per occurrence.
The change applies to all accounts, including checking and savings. WEOKIE 's lowering of fees is a meaningful reduction for members and supports shifts designed to create more equitable banking for everyone. Our priority is doing what's in the best interest of our members.
Courtesy Pay will help save you the embarrassment and inconvenience of a returned item, as well as the fee normally charged to you by merchants for items returned to them. There is no fee for having Courtesy Pay unless you use it. For Courtesy Pay to apply to your ATM and one-time debit card transactions, you must opt-in (consent) to have Courtesy Pay apply to those items. CLICK HERE to view details and disclosures.


Overdraft Protection is a service that will transfer available funds from a designated account (Certificate of Deposit and IRA are not allowed) to pay an authorized checking account transaction. Overdraft protection is available on checking accounts and covers only those checks presented through the Federal Reserve System or transactions through an ATM. Overdraft Protection is not available for checks presented at a teller window. Please refer to our Fee Schedule for more information on our current fees and service charges.
For more information or to apply, please call Member Services at (405) 235-3030 or 1-800-678-5363.
Courtesy Pay Overdraft & Courtesy Pay Protection

What is it?


In the event that you do not have enough money in your account, Overdraft Protection will transfer available funds from one of your eligible WEOKIE accounts to pay the transaction.

How does it work?


If we receive a transaction that cannot be covered by the funds in your checking account, we'll automatically transfer enough to cover your account.

Fees


You must maintain a balance or credit limit that will cover any overdrafts from your Checking Account, otherwise, a standard $15 non-sufficient funds (NSF) fee will apply per transaction for Courtesy Pay.

How to get started


For more information or to apply, please call Member Services at (405) 235-3030 or 1-800-678-5363.
Disclosures: BaZing is a product of StrategyCorps, LLC.
1 Subject to the terms and conditions detailed in the Guide to Benefits. 2 Insurance products are: NOT A DEPOSIT. NOT FEDERALLY INSURED. NOT AN OBLIGATION OR GUARANTEED BY THE CREDIT UNION, ITS AFFILIATES, OR ANY GOVERNMENT AGENCY. 3 Billshark requires additional activation to begin.
* Qualifications to earn a higher interest rate are as followed: enroll in e-Statements, 20 or more debit card swipes per month, and receive a monthly deposit of $250 or more.
e-Statement enrollment is required to avoid a $2.00 paper statement fee.