Getting pre-qualified and pre-approved both sound very similar, however there is a crucial difference between the two.
What Does Pre-Qualified Mean?
When it comes to getting pre-qualified, it involves supplying a bank or lender with your financial picture which includes your credit, debt, income and assets. After your lender gathers your financial picture, they will estimate how much you are able to borrow. Depending on your lender, they may also run a credit check.
The specific requirements that your lender will ask you to provide to get pre-qualified are as listed below:
Approve of a soft credit inquiry. A score of 720+ will qualify you for the most favorable interest rates.
Payment history
Employment history
Amount of debt
Amount of income and other assets
Money available for a down payment
Within the pre-qualification step, this allows for the discussions of any goals or needs regarding a mortgage. Your lender will explain various mortgage types and recommend the best option to fit your needs. Getting pre-qualified is like getting an estimate from a mortgage institution detailing how much of a loan you can likely afford. It serves more as a guide to you of what a lender might require rather than as any official approval by them.
The overall concept of getting pre-qualified simply gives you a sense of your financial readiness and will bring you into the first step of looking at your options. Again, the pre-qualification step is not an exact amount, because it is based on only the information provided. Most first-time buyers will often get pre-qualified before they jump head first into home shopping, which can also be beneficial when it comes time to make an offer.
What Does Pre-Approved Mean?
Getting pre-approved on your loan is the next step to getting pre-qualified and is much more involved. A pre-approval requires you to supply more of your financial history and stability for you to be able to receive the loan. When getting pre-approved, you will provide your income, employment, assets, debt, and have your credit report checked.
For the borrower to get pre-approved, they must complete an official loan application as well as supply all the necessary documentation to perform an extensive credit and financial background check. Once completed, the buyers will be provided with a pre-approval up to a specific amount. A pre-approval offer isn't a guarantee, but it shows that you're a serious buyer and can give you leverage in any competitive market. When you find your dream home, you can present the seller with your pre-approved loan document, showing them that not only are you serious about buying their house, but you've already been pre-approved for financing.
Todd Kaderbek, a residential broker associate with Beverly-Hanks Realtors, says "A pre-qualification is a good indicator of creditworthiness and the ability to borrow, but a pre-approval is the definitive word."
Skip Pre-Qualification and Get Pre-Approved?
If you're a buyer, you do not need to get pre-qualified first. If you are ready to make a decision and know that you are financially ready, you can skip the pre-qualification step and apply for a pre-approval.
Key Differences
Below is a list of some key differences between getting pre-qualified and getting pre-approved.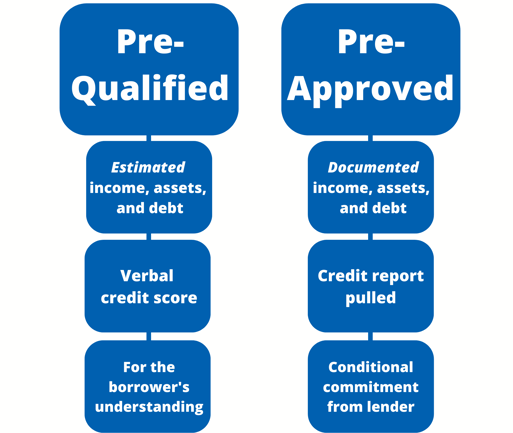 WEOKIE: We're Here to Help!
Have questions on your finances? Contact us today to set up an appointment, and we'll compare all the budgeting and financing options that are available to you through WEOKIE. Contact us now at 405-235-3030 or 1-800-678-5363 or click here to find more information on reducing debt and budgeting.
Federally Insured by NCUA