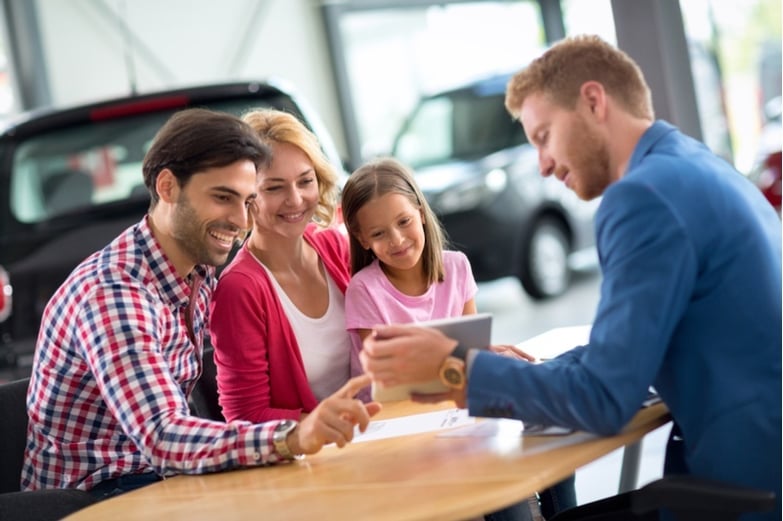 Finally, it's time for a new vehicle. Regardless of the reason, the car you have now no longer fits your needs, and keeping it isn't an option. Now, you have two choices: do you sell the old car or do you trade it in?
Trading in your car has its benefits. Namely, it's easy. There's no hassle trying to find a buyer. You just hand over the keys to the dealer and take a discount on the car you're purchasing. However, you could be sacrificing what it's worth. Sure, the car dealer is giving you a discount, but you might be able to sell the car for more.
Selling the car on your own is great if you have the time to dedicate to finding a buyer. You might be able to receive more for the car from a buyer instead of the dealer. However, it's a bit of gamble. It could take weeks or months to find the right person. It's also possible the car will sell for less than the dealer's discount.
There is also a lot of paperwork needed to transfer a car to someone else. It's daunting to think of the time investment needed to meet them, go over the details and allow them to test drive it.
You'll have to make a decision based on what is most important to you, but when you decide there are several strategies to save more.
Trading Tip 1: Buff it out.
You will want your car to look it's best. Grab a load of quarters and head to the car wash. An automatic car wash is a good start, but you will get a cleaner with a sponge and some elbow grease. Scrub off any baked on bugs and dirt from the bumper. Don't forget to clean behind the wheels.
Throw out the trash inside and vacuum the seats, polish the dash and clean the windows. If you haven't already, it may be a good idea to buy some quality interior cleaning supplies. Remember, leather and cloth seats have different cleaning methods, your carpets and mats will need attention, and your vinyl dashboard will need some TLC too.
Also, if you have any stickers, it may be helpful to remove them. Your buyer doesn't want to know about your nerd family or your favorite sports team. Cleaning off any unique placements will help you get a little farther in the trade-in process.
Trading Tip 2: Know the worth of your car.
The dealer must consider three important factors when they offer you a price. They need to know how fast the car could potentially sell, their current inventory and the condition of the car.
t's important you know exactly what your car is worth so you can negotiate. You may think you know what your car is worth, but it helps to have data to back you up.
There are several online tools you can use that will help you determine the current value of your car.
Compare your car to others on the market. Don't just search for the year, make, and model, but similar body styles and condition of the car.
Trading Tip 3: Shop around for the best offer.
Be ready to shop around for a dealer to get the best offer. This goes for the car you are getting as much as it is for the car you are trading in. You may be able to get a better offer if you go across town, or head over to a nearby town for your offer. You may surprise yourself with the deals you can get from looking around.
This step may add a little bit to the time factor. However, if time is not a significant issue, going the extra mile can help you get a few extra dollars.
If you're not trading your car, then selling is another good option. It all depends on whether or not you have the time to dedicate to the process.
Selling Tip 1: Conduct maintenance on the vehicle.
Just because you are selling your car rather than trading it in doesn't mean you should skip the homework. Find out how much its worth. Clean it until it shines. However, selling your car yourself is going to be a little more of a chore, but the payoff could be worth it.
Change the oil depending on the mileage; it may be time to replace the brake pads and spark plugs. Doing these steps on your own can help you save some money, but it would still be helpful to take it to a mechanic to get a checkup.
Having the documentation to present when you're selling or trading can help you have negotiation power. Making it look and run as close to brand new as possible will help you get a better deal. Your buyer is going to want a car they can drive off in with confidence.
Selling Tip 2: Create quality marketing materials.
Get some good photographs for your ad. You don't need to be a professional photographer or know one. Some simple tricks and a decent smartphone are all you need.
Take your photos in the morning or evening because it gives you the optimal lighting without harsh shadows from the sun. Park your car in an area that will make the color pop, and be aware of what's in the background.
Remember: reflections can be your friend and your foe. Be mindful of what is reflecting in that shiny and clean window. If you can park on asphalt, wet down the surface around your car for an easy "wow factor."
Take several photos of different angles and areas of the car; hold the camera high or go low. You are trying to stand out from all of the other cars being sold. Just remember to take some shots of the mileage, the tires, and the engine. If you are creative, you can make a commercial for your car.
Selling Tip 3: Remember the three P's.
Be prepared. Selling your car yourself is a much more involved process than signing-on-the-dotted-line at the dealer. It can be a bumpy ride, or it can be smooth sailing, and it's not always in your control. Anything can happen, so expect the unexpected.
Be patient. Finding a buyer and working around their schedule can take time. They will likely want to see the car, sit in it, turn it on, and drive it. Once you have a buyer, filing the correct paperwork can take time as well.
Be proactive. Instead of getting whatever marked down price from the car dealer, you get to work with the price. Be ready to work on your price with the buyer. Remember, you both are in a win-win situation: you're saving money and cutting out the middleman.
Just like it's best to shop around, so you can make a good decision on whether you should sell or trade your car, you should do the same for your loan. Sometimes, you have better options than what the dealer will offer, such as a great interest rate with WEOKIE.
Of course, there are other ways to save when your shopping for a new car. Download our guide, so when you are looking to buy a new car this year, you'll get the best deal.
Federally Insured by NCUA