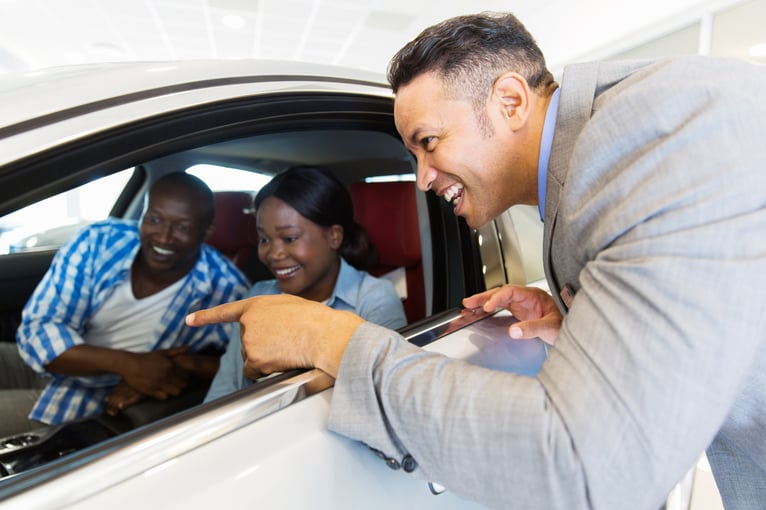 "Zero-down, 0% financing for X months" can seem like an amazing deal at first. But when the promotional period is over, you're stuck making payments with compound interest that can lead to financial stress.
When buying a new or used car, most people go straight to the dealership. The problem with this is dealerships make their own financing programs sound amazing. When in reality, they typically feature some of the highest rates in the industry.
If you financed an auto loan with the dealership, don't worry. In today's blog, we'll teach you how to save on your auto loan with a single credit union secret.
How can a credit union provide better rates?
Even if you're not a member of a credit union, it's always worth looking into. In fact, depending on your credit and employment history, you could get a lower interest rate compared to other lenders. (And, the personalized customer service doesn't hurt either.)
A credit union differs from a traditional lender in that it provides financial services through a cooperative membership. The profits being made go back to the members in the form of lower rates on products like savings and loans. And unlike a dealership, credit unions prioritize their members' financial interests and won't sell you something to inflate a sales commission.
Fact: We've saved new members up to $10,000 over the lifetime of their auto loan.
Follow this link to start your online application in just 2 minutes!
What's the secret to saving money on my auto loan?
Because credit unions are structured differently than other financial institutions, they have the power to refinance existing loans with better rates and flexible terms. Credit unions also offer member perks and promotions to help stretch your dollar even further.
For example, we offer a special discount for customers getting their first loan with WEOKIE. Our mission is to provide the tools and resources you need to reach your financial goals.
What are the other perks of working with a credit union?
If you're an inexperienced car buyer, you can always turn to WEOKIE Federal Credit Union for an unbiased opinion. We'll teach you how to calculate the real value of the car you're wanting to purchase – not the magical number the dealership is telling you.
We consistently provide tools and resources to our members to help them make sound financial decisions that improve their lives. And, perhaps one of the best perks of working with a credit union is the level of personalization you'll receive. It's special touches like these that build a trusting financial relationship.
How do I get started with WEOKIE?
You may find a good car loan at a dealership or bank. But a great car loan can positively impact your life – reducing stress and minimizing financial hassles.
Follow this link to find out how much you could be saving every month on your new or existing auto loan.
Haven't been to the dealership yet?
If you haven't begun your search yet, you're in a great spot. Give us a call to determine your borrowing power and download this free checklist to gain the upper hand while heading to the dealership.
Federally Insured by NCUA.