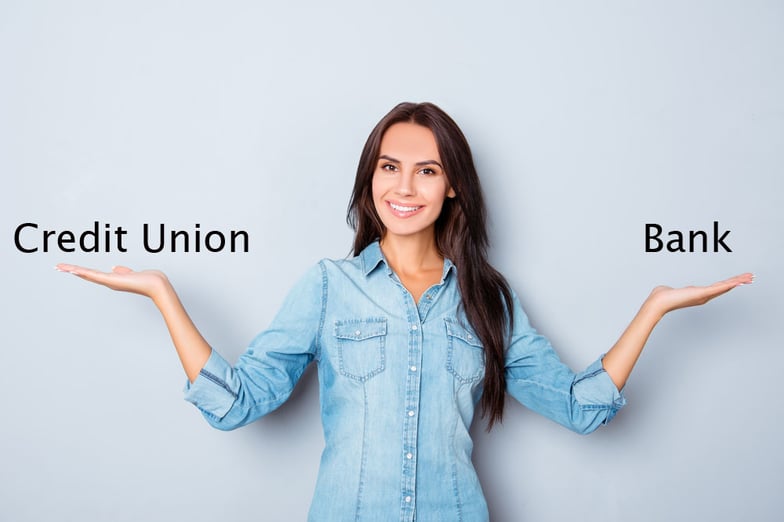 Do you need a new car loan? Are you looking for a house? Big life purchases like these usually result in you looking for different financing options, which will eventually leave you wondering "what is the difference between a credit union vs. traditional bank anyway?"
These two entities are more alike than most people realize. At both, you can walk in and open an account to deposit your paychecks, you can apply for a mortgage or car loan, your funds are insured, and you can have a check or debit card tied to the account to buy items. There are very little differences when it comes down to the basics.
However, despite the similarities, credit unions and banks have some key differences like membership and interest rates.
Banks are generally the go-to source for financing and accounts, mostly because they provide everyone a sense of familiarity. Credit unions, however, are often overlooked despite all the benefits they offer.
Memberships
One of the main differences between credit unions vs. banks is the "membership."
While many credit unions are for special professions like firefighters or teachers, other credit unions like WEOKIE simply have geographic limitations. At WEOKIE if you live, work, worship or attend school in Oklahoma, Canadian, Cleveland, Grady, Lincoln, Logan, McClain or Pottawatomie counties, you can open an account.
Credit unions are required by law to restrict membership in some capacity. The good news is once you open an account, membership is retained regardless if you leave the affiliated group.
Membership is not complicated, with just a $5 deposit, you can become a member and take advantage of the low rates offered by WEOKIE.
Not-for-profit vs. For-Profit
Another big difference between credit unions vs. banks is the structure of the business.
Credit unions are not-for-profit entities, which means they work to serve members and not to maximize profits like a bank.
The credit union is governed by a small board of elected, unpaid volunteers. These individuals need to be a member of the union to run for election. The financial cooperative is typically small and local, and members all have one vote.
Additionally, as a not-for-profit, credit unions don't pay state and federal income taxes like banks, giving them an advantage and opportunity to offer lower rates and fees. The credit union distributes earnings through high-interest rates on deposit accounts and occasionally through dividend checks.
In contrast, banks are often governed by a paid board members who do not necessarily have accounts at the institution. The owners of the bank are the shareholders who bought stock in the company. The bank is working to provide a financial return to the shareholders and not to account holders.
Fees and Rates
Since credit unions are not-for-profit institutions, they can offer lower fees and rates compared to banks. In some ways, an account at a credit union means you're both a member and owner of the institution. In result, savings accounts at credit unions will often have much higher interest rates and loans will have much lower interest rates.
Banks will commonly have excessive and costly fees. The bank's objective is to make a profit for its shareholders, and all those extra expenses help them reach their goals.
Location Availability
Banks, especially national banks, will offer one main convenience; location. If you travel often, then you will probably find a national bank branch in every state or region you visit.
In contrast, credit unions tend to be very localized. To compensate, many credit unions joined branch-sharing networks to provide better convenience and access for account holders.
People may choose a national bank thinking it will offer them more convenience because locations can be found in other cities and states. However, Credit Unions are just as convenient.
Since they are invested so heavily in the community, unlike a national bank, credit unions tend to offer much better customer service.
When it is time to take out a loan or open a new account, the next step should always be to shop around for rates. Don't talk to only one bank you're familiar with or just accept a dealer's rate. Take the time to call your local credit union.
If you live in a designated county, then call us today at 405-235-3030, and we will discuss your options.
Federally Insured by NCUA