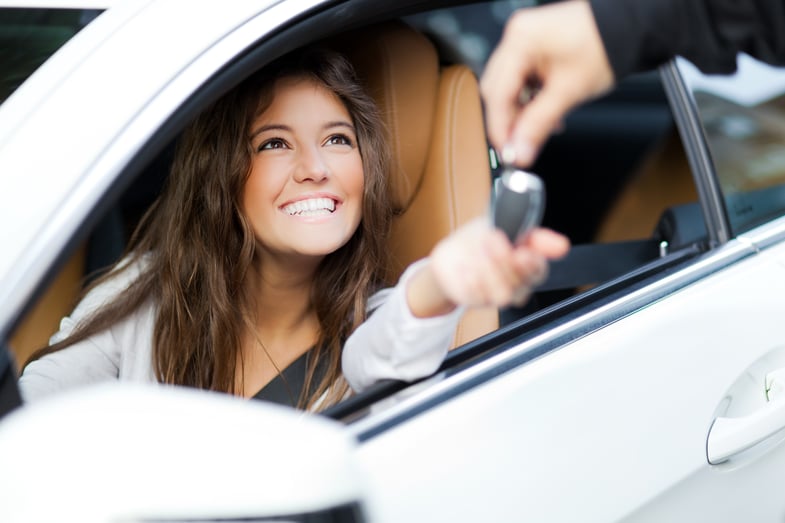 It's that time of year again — tax season. What better way to invest that check from Uncle Sam than the purchase of a new or used car? If your car is racking up mileage or you're simply looking for a new set of wheels, using your tax refund is a great way to stretch your dollars further. Today, we'll be sharing four strategies for leveraging your tax refund and credit union to purchase a new car this year.
1. Use your tax refund for a downpayment.
If you're working with less than stellar credit, a refund is a great way to lay down a substantial downpayment. Opening up more financial options that wouldn't otherwise be available, putting down a strong downpayment also communicates to the dealership that you're a serious buyer.
Using your refund for a downpayment also helps you get approved for a loan with lower monthly payments and reduces the likelihood of owing more than the vehicle is worth (whenever the vehicle starts depreciating).
2. Save more money by purchasing used.
Sure, you may not get that new-car smell. But because of depreciation, putting your tax refund towards a used car can save you a lot of money. And, if you shop wisely, you can avoid a used car loan and pay for the car outright.
Keep the age of the vehicle in mind, though. Instead of a monthly loan payment, it's wise to set money aside for future repairs. Also, be sure to explore the auto buying and repo vehicle programs your credit union has to offer. This can help you save even more money on a "new to you" car.
3. Pay down your existing loan.
Having the power to put down a big payment on an existing car lifts a huge weight from your shoulders and helps you get one step closer to becoming debt-free. If you were to make a $3,000 payment on an existing $15,000 loan, you'd be paying your car off a whole year earlier. You can pay down your existing loan one of two ways:
Making an extra payment, allowing you to pay off the loan quicker.

Or, paying down the balance which reduces your interest over time.
If you're not sure which strategy is right for you, reach out to our experienced lenders at (405) 235-3030 or 1(800) 678-5363 and we'll help you determine a solution that brings you a step closer to positive financial health.
4. Refinance your existing auto loan.
Another way to leverage your refund and credit union is to refinance. If you have an existing loan with a high rate (from a dealership or previous bank), you can use your tax refund to restructure the loan. By reducing the principal, you can get a better interest rate on a lower balance.
If you didn't get much of a refund this year, that's fine. Refinancing your existing auto loan is also a great way to save money in the coming year, by adjusting your rate or monthly payment terms.
Ready to head to the dealership?
Once you have all the information you need from your credit union, it's time to head to the dealership for a test drive. Spend ample time with the salesperson and have them demonstrate the vehicle's features, pros and cons so you're comfortable with what you're buying.
If you factor in your tax refund after calculating all your experiences, you may find you don't need to put the entire amount down — or your monthly payments may end up being less than you had expected. Rather than relying on your refund, use it strategically so it's just icing on the cake. Remember, you're in the driver's seat.
Start your car buying journey at the credit union.
We hope you found this information helpful. Our goal at WEOKIE is helping you get the most out of your tax refund and get one step closer to achieving your financial goals.
To learn more about our auto loan services and car buying programs, give us a call at (405) 235-3030 or 1(800) 678-5363. We'll work to put you in a vehicle you deserve at a price you can afford.
Shopping for a used car?
Most listings that sound "too good to be true" usually are. In this free resource, we share insider secrets for assessing car reliability and how you can partner with a credit union to get the best deal on an auto loan.
Federally Insured by NCUA