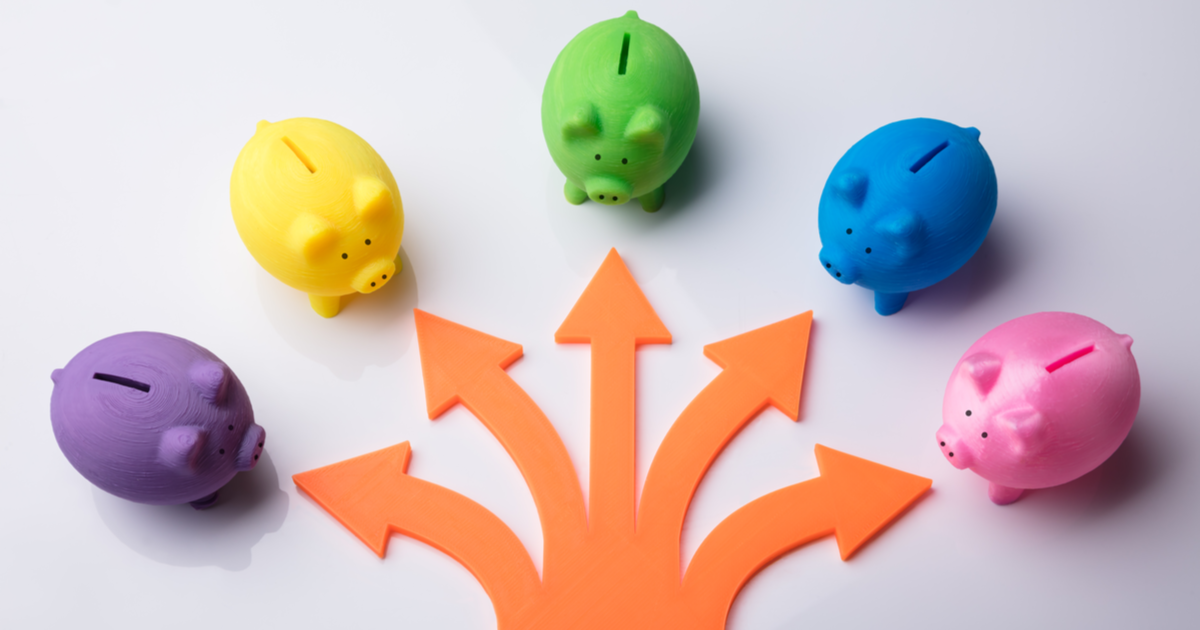 When it comes to saving money to reach your financial goals, you'll want to be smart with your decisions. To make your job easier, we've outlined some of the important differences to consider when you choosing between a high-yield CD account versus a Savings Account.
At the end of this blog, you'll be able to quickly identify the right WEOKIE savings plan for your finances.
Also, if you want to learn about all of the savings options you can start using to improve your finances, download our newest ebook!
Savings Accounts
It's easy to assume savings accounts are all the same. You might think you'll have the same benefits regardless of where you open your account, but the reality is every financial institution is different and there are many options that earn you different interest rates.
Here are some options and their corresponding interest rates at WEOKIE:
If you choose a savings account, you'll have to consider the accessibility of the funds, how much you need to open the account and your APY expectations.
Membership Savings and Special Savings
These accounts are the traditional options and are what most people think of when they talk about a savings account. It receives .35% APY, there is a $5 minimum to open the Membership Savings and no minimum for the Special Savings. It typically has a limited number of transfers per month or checks per month.
Smart Savers
Much like a traditional account, a Smart Savers account is for minors under 18 years old to help them start a good savings plan for the future.
Silver Savings
If you are looking to open an account with at least $25,000, you'll have access to higher interest rates compared to traditional savings accounts.
Certificate Accounts
Unlike savings accounts, Certificates of Deposit or CDs is a way to earn an even higher interest rate on your savings, but in exchange, you agree not to touch the savings for a set period of time or otherwise incur a penalty.
These accounts also come with a higher entry point than a traditional savings account. You'll need to open the CD with at least a $1,000 deposit.
You don't have to commit to saving your money for years to take advantage of higher interest rates offered by CDs. We have CDs for as little as three months to six months.
Here is an outline of all of our CD options and their corresponding APY.
Rates
It's important to note that once you open a CD, you'll keep the interest rate for the duration of the certificate. However, these rates might change over time, so it is important to speak with one of our team members at WEOKIE to ensure you have the latest information on all of our savings accounts.
Features
When you choose a CD, you're making a commitment that you won't touch the account for the agreed upon term. So for example, you might choose to open a 3-month CD account for a short-term savings strategy, or if you are saving for a bigger purchase like a car or a home, you might choose to save using a 5-year (60-month) CD.
CDs are great when you know you won't need to access the funds for any purpose during the term. It is not a good account to us as an emergency fund.
The Best of Both is an Option for A Serious Saver
Maybe you don't have the cash on hand to open a long-term CD (or a short-term), but you're ready to be a serious saver. Not everyone has $1,000 they're ready to put away for five years, so we've created a new account that incorporates the ease of traditional savings accounts with the commitment of a CD.
Features
With this account, you commit to contributing a set dollar amount (between $25 and $1,000 per month) for a set amount of time (between one and five years).
You'll earn a higher interest rate on the account than you would a traditional savings account, much like a CD, but you don't have to start with a minimum of $1,000. Instead, your commitment is to contribute regularly rather than to be hands-off.
This account provides a significant level of commitment, just like a CD, so you have to be certain you're financially ready for the account.
Questions to Help Make Your Decision
Now that you have all the facts, it's time to make a decision on which account is right for you.
Here are the questions that will help you make the best decision.
1. Do I need to access the funds regularly?
If you plan on accessing the funds at least once or twice a month or if the account is going to be used as an emergency fund, then a traditional membership savings or special savings account is the right option for you.
2. Do I have at least $25,000 to save?
If you are saving a larger sum of money, but you still want easy access to the funds, then a Silver Savings account is the better option. If you don't need easy access to the funds, then you should consider a CD.
3. Am I opening an account for a minor?
Our Smart Savings account is the perfect option for a young saver under the age of 18.
4. Do I want to earn a higher interest rate?
If earning a higher interest rate is your main objective, then a CD or a Serious Savings account is the best option especially if you have the capability to commit to a set monthly contribution or a set term where you won't touch the account.
5. Can I be committed to not touching the funds for a predetermined amount of time?
If you have at least three months that you can commit to not touching your funds, then a CD or a Serious Savings account might be right for you.
CDs and savings accounts aren't your only viable saving options. We've created a special ebook to outline in detail all of your options including investments. Download your free copy today!
For more information, schedule a conversation with one of our trusted advisors by calling us at (405)235-3030 or (800) 678-5363 or open online!
*See a WEOKIE rep for details. Federally Insured by NCUA