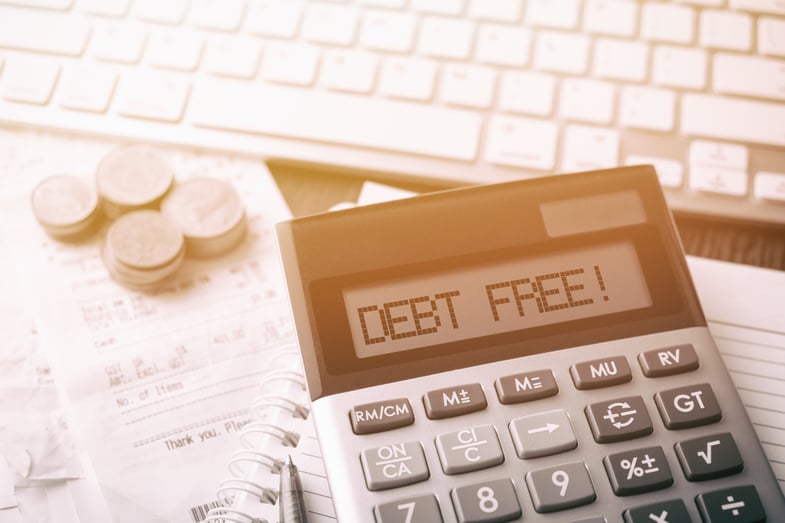 As we connect with loved ones over the holidays and enjoy the remaining splendor of the season, it's time to turn our attention to the upcoming year. One of the most common New Year's resolutions is escaping debt. But, this can be difficult when you're already living paycheck-to-paycheck.
In our blog today, we'll be uncovering the ultimate escape route — helping you get rid of debt (and developing a savings plan) in 2018.
1. Check your credit report for any errors.
Obtain a free copy of your credit report and scan it carefully. Watch for any accounts that aren't yours — this could be a sign of identity theft. Or, the bureau or lender has confused you with someone else.
Also look for any outdated information or incorrect payment statuses. Accounts may still be listed after the legal deadline for removing them from the report.
Lastly, if an account has been transferred to a debt collector, your report may contain more than one date of delinquency. Look for any discrepancies and remedied delinquencies that were not reported.
2. Review your annual tax withholdings.
Did you receive a hefty tax refund? You may need to review your withholdings. If you are getting large tax refunds, you may need to adjust your monthly withholding.
For the incoming year, we recommend putting your refund towards your debt or an emergency fund. From there, speak with a tax professional and adjust any holdings. And if you're self-employed or work from home, investigate tax breaks that may account for any office or travel expenses.
3. Minimize your expenses as much as possible.
Check for any savings opportunities by bundling your insurance policies. Raising your deductible is also a way to lower your premiums. If you're in good health or have a spotless driving record, negotiate with these companies for better rates. The worst that can happen is they say no.
Additionally, if you've been a loyal member of any utility or cable company, use that to your advantage. Sometimes you can extend or lock in a new discount.
For your electric bills, look into a "smart hours" program and find out other ways to conserve using this energy savings guide. And before the winter weather kicks in, apply new caulk around windows and use breeze blockers under doors.
Here are some other ways to create room in your budget:
Swap eating out for

weekly meal plans

.
Swap a gym membership for an app or home setup.
Swap cable for a subscription service like Netflix or Hulu (both under $10 per month).
Swap a daily trip to the coffee shop for a home brewer.
Swap paper towels and napkins for reusable, washable microfiber cloths.
Swap books and magazines for a free library card.
4. Refinance your vehicle.
If you enjoy your car, but it's difficult to afford, you can stretch your payment terms with refinancing. Or, if you simply didn't get the best rate when you first bought the car, WEOKIE Federal Credit Union may be able to help lower your interest rate or monthly payments.
Did you know, you can borrow up to $7,500 and enjoy affordable monthly payments? If you simply need a financial head start, you can borrow $1,500 for as little as $67 a month*. For more details on the promo, give us a call at (405) 235-3030 or (800) 678-5363.
*Example loan illustrated is calculated for 24 months at 5.99% APR. Payments are $4.44 per $100 borrowed up to $5,000. A credit score of 670 or above is required to take advantage of this signature loan rate. Other loan options are available. Loan amounts $5,001-$7,500, rates start as low as 7.99% APR up to 36 months. If you would like specific details, please contact a WEOKIE representative. All loans are subject to underwriting. Rate and term based on credit score. Some restrictions may apply. Rate, terms, and conditions are subject to change without notice. Current WEOKIE loans are not eligible for refinancing. This offer cannot be combined with any other offers. This offer expires 12/31/17.
5. Refinance your mortgage.
Has the value of your home increased? Do you have a major expense on the horizon? It may make sense to refinance your mortgage. Lowering monthly payments is the most popular reason homeowners decide to refinance.
You may be able to reduce your interest rate, if you opt for a short-term loan. By doing this, you'll reduce the overall interest paid on the loan — and pay off your mortgage sooner.
6. Consider a personal loan.
Want to consolidate your debt into a single, lower interest rate? Paying off your credit cards early can help score you major savings over time. WEOKIE Federal Credit Union offers both secured and unsecured loans at very competitive rates — click here to submit an application.
7. Develop a budget.
Once you've established some wiggle room in your finances, it's time to determine a budget. First, start with your reoccurring expenses. Then, start developing a repayment strategy around tackling your debt.
Here are some budgeting tools to assist you in this step.
8. Automate your savings.
A rule of thumb is allocating 20 percent of your income to savings. But, it isn't always that easy. Starting small is okay — saving something is better than nothing. Once you've built up an emergency stash of $1,000, consider automating your savings in scheduled increments (like pay periods). And once you're debt-free, you can continue dedicating more to this fund.
WEOKIE offers a variety of high-yielding savings accounts.
Certificates: Term deposit accounts provide a higher rate of return for a term of choice (3, 6, 12, 24, 30, 36, 48 and 60 months) with an auto-renewal feature.

Serious Savings: A Serious Savings account allows you to make monthly deposits into a higher interest certificate account — saving money at a higher return without the minimum opening deposit.
Silver Savings: A Silver Saving account pays a higher interest rate than a regular savings account, compounded monthly.
IRA Savings: Contributions made into a WEOKIE Traditional IRA grow tax-deferred. The money is taxed only when it's withdrawn at age 59 1/2.
Money Market: A WEOKIE Money Market is a savings account that earns higher dividends and provides limited check-writing ability.
Ready to achieve financial freedom in 2018?
In our free guide, we teach you how to get the process started by opening an account with WEOKIE Federal Credit Union. Click below to access it now.
Federally Insured by NCUA