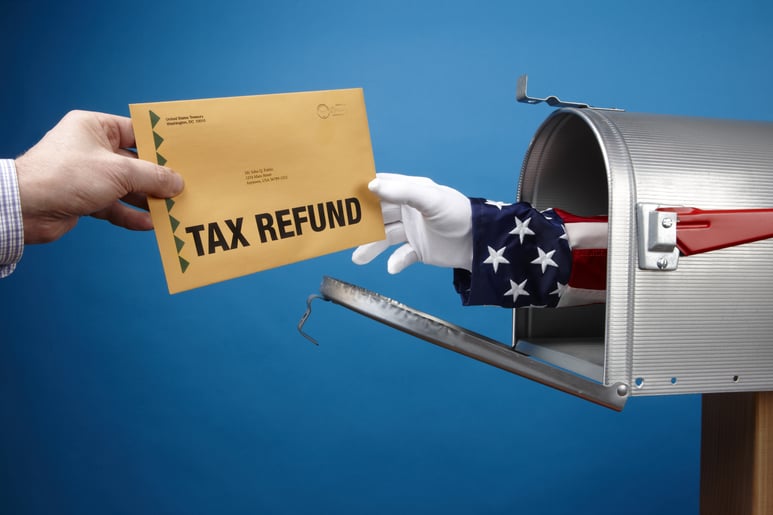 Tax season return is finally here. But wait, not so fast! Before you take your check from Uncle Sam to the electronics store, take some time to evaluate your financial standing. Setting your refund aside for a rainy day is one strategy. But, there are multiple ways you can invest your tax refund. Some may even boast long-term effects on your household's bottom line!
It's okay to spend, just keep your finances in mind when you do. In today's blog, we'll be sharing 10 ways to get the most out of your tax return. We'll also teach you how to leverage these extra funds in purchasing a new (or new to you) car.
Dust off your debt.
Paying off high-interest credit cards and loans can save you an enormous amount of money in the long run. If you've been struggling with debt or have large expenses hanging over your head, it might be in your best interest to create a fresh financial start.
1. Credit Cards
Have a lingering bill haunting you from your last splurge? Fulfill the minimum balance on each card and start paying them off one by one. You can start with the card that has the highest interest rate or you can follow the snowball method, paying off smaller balances first.
2. Mortgages
Residents can sometimes find themselves paying double the cost of their home in interest if they've opted for longer payment terms. If you dedicate your tax refund to making a dent in the cost each year, you'll be able to pay off your mortgage quicker and avoid the extra interest.
3. Student Loans
The average graduate has $30,000 in student loan debt. Unfortunately, it's not uncommon for grads to finish paying off their loans as their children head off to college themselves. Stop the cycle by using your tax refund to slowly pick away at the balance.
Invest in the future.
If you don't have much debt, that's great news! But, that doesn't give you an excuse to splurge on a home theatre. We recommend investing in something that'll serve you well over the years – like an emergency or retirement fund.
4. Retirement
If the business where you work has a matching 401(k), you have the opportunity to double your savings for retirement. But, matching contributions to your employer's cap can be difficult month-to-month. One of the perks of a 401(k) is that your contributions are taken out of your paycheck before their taxed. Set aside your tax return and increase the monthly percentage from your paycheck. This is a steady way to ensure you're taking advantage of the benefit.
5. 529 College Savings Plan
If you have a future student or two, you might consider placing your refund into a 529 plan. This allows you to invest your money, similar to that of a 401(k) to prepare for your child's college tuition. A 529 plan also features a number of tax breaks, helping you save even more for the future.
6. Emergency Fund
Financial advisors recommend having three to six months' worth of expenses set aside in an emergency fund. Having this money can be a lifesaver and cover crisis situations like a job loss, medical expenses or an appliance breakdown.
Invest in yourself.
As we mentioned, we're not trying to deter you from spending your tax refund. However, being intentional with your purchases will allow you to boost your financial standing. Here are some examples of things that provide a great return (both physically and mentally).
7. Education
Your kids aren't the only ones who can benefit from education. Taking courses, attending conferences and joining organizations are great ways to boost your earning potential. You'll also become much more valuable to your employer, which can open up new and exciting opportunities for your career.
8. Home Project
Home improvement projects don't just make you happy; they have the potential to increase the value of your home as well. The most commonly renovated rooms are the kitchen, living room and master bathroom. And, if you're opting for minor changes like fixtures and a fresh coat of paint, you can set aside the rest for a rainy day.
9. New Vehicle
If your current car has called it quits or you're simply looking to upgrade, a tax return is a great way to help with a down payment. If you're selling or trading in your car, you'll accumulate some extra funds there as well.
Keep in mind, you'll find lower auto loan rates and more flexible terms working with a credit union. We also recommend paying off any dealership fees upfront to reduce interest in the long run. To learn how you can save thousands on a new (or pre-existing) auto loan, click here.
10. Charity
Lastly, if you're financially secure and have a healthy savings portfolio, donating to a non-profit is always an option. Not only does it reward your conscious, but charitable donations can be itemized whenever you file your taxes next year.
Make plans before you cash out.

The best way to ensure you don't spend your money frivolously is carefully planning where your return will go (even before you file). Our team at WEOKIE Federal Credit Union is here to help you make the most of our annual tax refund and provide you with the tools you need to make your finances grow.

To learn more about credit union savings and loan opportunities, give us a call at (405) 235-3030 or 1(800) 678-5363. Our team would love to discuss your specific needs and help develop a financial plan to meet your goals.
Wanting to purchase a vehicle with your tax refund?
Whether you're shopping for a new or used car, reliability is key. In our latest resource, we teach you 10 ways to assess reliability and reduce the risk of your new investment. To access this free guide, click below!
Federally Insured by NCUA