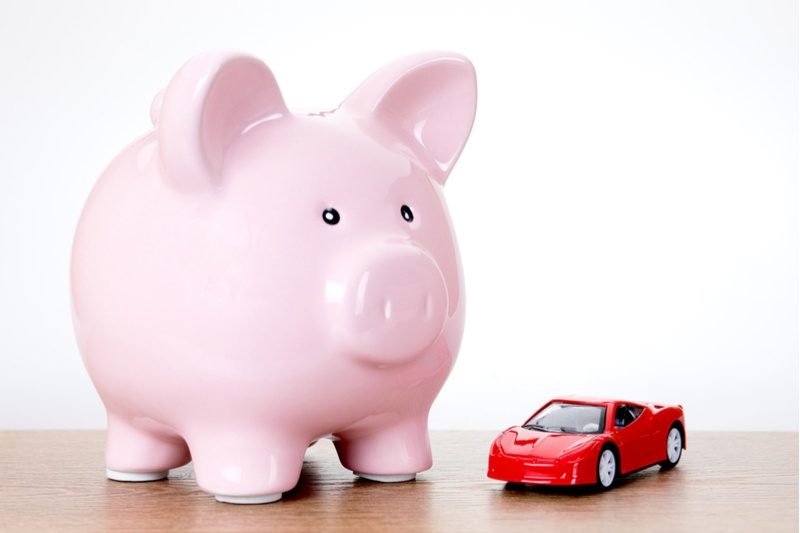 Buying a car can be an expensive adventure. The overall cost of ownership can cover a vast range of possibilities. Credit unions are different from banks when it comes to the cost of your loan. You'll have to determine the benefits of bank vs. credit unions when it comes to car expenses.
When looking at a car, you need to calculate the true cost of your auto loan and how it works into the cost of ownership.
Decrease the Initial Cost
Trade-In Your Old Car
Decreasing the initial cost of ownership can help you out in the long run. One way to take some cost off the top is trading in your current vehicle. Even older, heavily used vehicles have some value that you can use against the purchase of a new car.
Large Down Payment
Start saving now for the down payment on your next car. A hundred dollars a month will add up fast and you won't feel as strapped for cash when you make your purchase. A larger downpayment, means smaller monthly payments.
If you don't use all of your down payment savings up front, you can use it to pay other vehicle startup costs. Or, if you are uncertain about making a large lump payment, you can pay more each month to lower the total interest on the loan by paying it off sooner.
G
et the Dealer Invoice
Dealers will throw in all sorts of deals to lower the price to get you in the door. Get past the fluff and find the invoice for the car. You can search online to find what that particular make and model is invoiced at, or you can just ask the dealer for their invoice.
Say you are looking for a popular truck that is advertised at a $39,865 starting price, but you found that it is invoiced at $37,075. That's $2,790 difference, and the dealer is still going to make money on that. Shooting for the invoice price will get you past the negotiation table and into a vehicle faster. Any dealership will do whatever they can to get you to buy their car before you leave; something you should use to your advantage.
Cost of Car Ownership
R
egistration
Now that you have the keys to your new vehicle, you must be aware that you're not in the clear just yet. If you don't have the paperwork in hand right away, keep an eye on your mail as you would be getting documentation to register your car.
Registration means taxes.
You must get plates and tags for your car to legally drive it on the road. Make sure you have some money set aside, and the dealer will be able to tell you what that amount is for your car.
Generally, you have 30 days after you drive off the lot, and it's not unheard of for the paperwork to show up at the 11th hour. Depending on where you live, the wait time at the DMV will vary, so be sure to leave some flexibility in your schedule.
I
nsurance
If you had a previous vehicle, your old insurance coverage would cover your new one for a short time. Be sure to call your insurance agent before you buy a new car, and they will walk you through the process. At the very least, call your insurance agent as soon as you can after buying a new car to get it added. If you already have an existing policy, you can breathe a little easier.
If you are buying for the first time, you will need to get insurance before you arrive at the dealer. A new policy may take a little more time to set up for a brand new first-time vehicle, but it is a requirement. If you are buying a brand new car and taking a loan out on it, you will need to get full coverage in case of an accident.
In Oklahoma, the minimum is $25,000 per person and $50,000 per accident. However, you may want to consider the area you are driving in and increase the insurance on your new car if needed.
M
aintenance
When you buy a new car, it may come with a few free oil changes and tire rotations. But once those deals run out, maintenance on a vehicle is a guarantee. Some of these items include:
Topping off windshield wiper fluids

Buying new windshield wiper blades

Cabin and engine air filter replacements

Replacement tires due to wear or damage

Replacing headlights and taillights

Regular oil, filter and hose changes

Chipped windows which need to be sealed to prevent further damage

Battery replacement
While doing these things yourself can save you money, the costs still need to be considered. All of these are things you need to be ready for when owning a car, and some can be expensive if you don't have savings to cover them as they arise.
How a Bank Can Increase the Cost of Your Auto Loan
O
ne-Size-Fits-All Rates
Smaller, regional banks may be a fit for a more niche market, but like their larger counterparts, they are looking to loan to as many people as they can. Their rates will be standardized to fit everyone. Some people it will fit just fine, but others will be strapped for a higher rate.
This goes for the term as well and depending on what vehicle you want this might put you in a position where the monthly payments are larger than expected. The ability for a bank to personalize their rates is sometimes limited.
F
or-Profit Structure Means Less of a Focus on You
Since a bank is looking to get the most money it can out of your loan, it will most likely be a standard rate. The process is simplified to get as many people in and out of the building with their loan as soon as possible. You become just another person giving them money.
H
igher Fees to Cover More Branches
Take a look at how many branches the bank has regionally and nationally. You may find that your fees will reflect that value, as you are now covering for multiple bank locations. Large national banks need to get their money from somewhere, and that is your wallet. You should ask yourself: what are you getting out of the deal?
How a Credit Union Can Lower the Cost of Your Auto Loan
B
etter Interest Rates
The best thing about being a part of a credit union is that you are not just another account; you are a valued member. It's not exclusive, and as members join, the benefits for everyone increase. When looking at loans, that means better rates than what you will find anywhere else. Plus, WEOKIE offers the tools you need to make a more informed buying decision.
P
ersonalization Just for You
Better rates can come with better terms than what you will find at other institutions. Personalizing your loan to fit your needs is just one of the ways a credit union like WEOKIE can help you. We can figure out what loan will fit your current income.
Plus, we have insight into the industry to make recommendations based on your needs as well. You can personalize any add-ons to your loan, like adding GAP Advantage for peace of mind in your new vehicle.
P
re-Approval to Get You on the Road Faster
Come in and talk to us about what car you are getting and what loan you need. We can get you pre-approved for a loan. This is a great perk when walking into a dealer to buy a car. You know what we can cover you for, and you can bypass much of the hassle of negotiating with dealer financing.
M
ember Perks and Promotions
Thanks to our amazing members, we are able to provide you the best possible experience with any loan. With savings account options, checking account options, and investment opportunities, we can help your money work for you.
If you think you are ready to start looking for a vehicle, new or used, come visit us at one of our locations and see how we will earn your membership. Give WEOKIE a call today at (405) 235-3030 or 1(800) 678-5363.
Maybe you're thinking about refinancing a car because you have a better credit score or you think you've overpaid since you bought the vehicle. Our free guide to refinancing myths might help you work through the decision process efficiently.
Federally Insured by NCUA