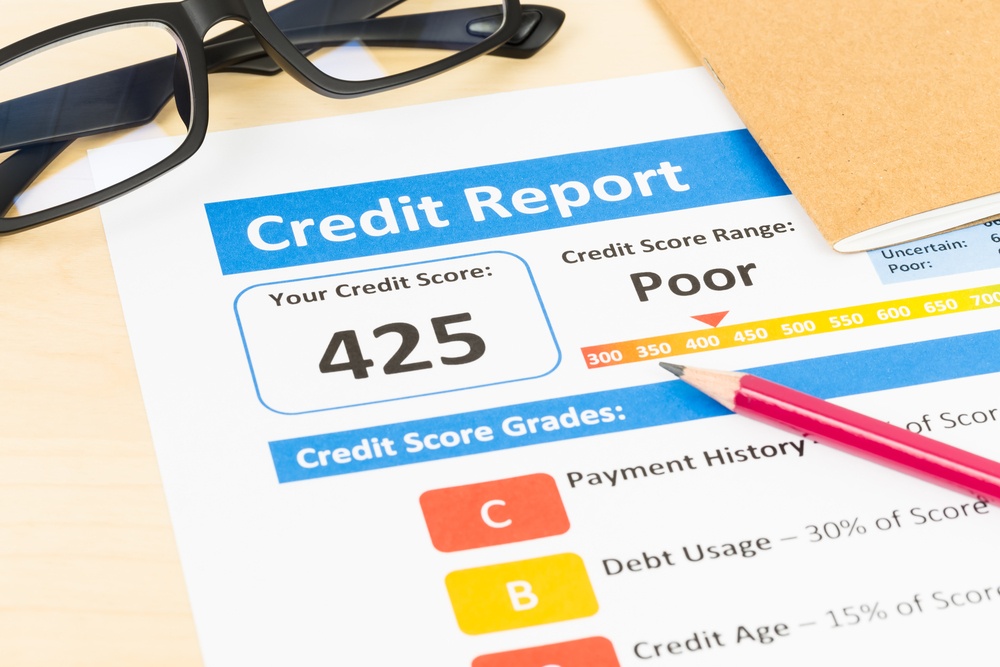 Credit scores in the United States have been increasing, hitting a record average of 700 points out of 850 last year. This is good news because it means that even if you don't meet the average, all it takes is a little effort and persistence to improve your credit.
Bad credit is not the end of the world. It just means that it takes a little more effort to get a loan approved. Bad credit can come from a number of factors. For example: if you missed payments on a credit card, or defaulted on a loan, it can hurt your score. You could also simply have no credit, meaning you haven't borrowed much (or at all) from lenders in the past.
Don't let your past credit history determine your future. There are things you can do today to build your credit score and get on track.
1. Know Your Credit Score
Not enough people check their credit. You may think you have bad credit, but that could be due to any number of factors.
Go to annualcreditreport.com for your free report from all three credit reporting bureaus. You get one free check per year that doesn't affect your credit score.
For regular checkups, creditkarma.com offers credit checks that do not affect your score but are limited by the information they are able to provide. This can be beneficial to see your score improve over time while keeping track of any issues that may be ongoing with your score.
It's best to know your credit score than to assume it is bad or good.
2. Correct the Errors
The bad credit may not even be yours. Credit reporting agencies can sometimes make errors, and unfortunately, it's up to you to make it right. If something on your credit history does not belong to you, begin the process of getting it corrected.
This can take some time - maybe even months or more - to get fixed, but if you are suffering bad credit that isn't your fault, you need to take action.
3. Start Building a Good Credit History Today
You may not even have bad credit. It could be fairly decent in fact. You may just be limited by your credit history.
If that is the case, you may want to look at getting a credit card. If you are struggling with debt, there are options for cards with limited lines of credit that can help.
A single credit card is a great way to consolidate your spending and see where all your money is going every month. Plus, you will slowly build a low credit score with good spending habits and establishing positive history starting today.
WEOKIE offers Visa credit cards with cash back and rewards also, if you're a first-time auto buyer with limited credit history, we have a special program for you at WEOKIE.
4. Learn How You're Spending Your Monthly Income
First and foremost, figure out where your money is going each month. Mortgage or rent is an important bill and should be high on your list. Your utility bills and your auto loan are next.
Above all else, make sure you make the minimum payments each month on debts that are secured with collateral. Home and auto loans are considered secured debts. If you fail to make the minimum each month, you could lose the asset.
If you have more outgoing expenses than income, then find places to save by creating budgets for living expenses like food, technology and activities. Examine your insurance premiums. Make a list of all your subscriptions like Amazon Prime, Netflix, Spotify.
How many times are you going out to eat out every month? How many gourmet coffees are you buying? Nobody is suggesting you cut out coffee, but there are less expensive ways that help get you started every day.
Find things that you can cut back on and remove things you can live without. Set realistic goals with rewards.
Did you pay off a debt? Treat yourself to a nice dinner out. Did you go a week without buying a fancy coffee? Then go ahead and buy one tomorrow. Rewards aren't excuses to stop but are glimpses of the freedom you will get without debt and with a better credit score.
When you have your budget under control, then it means you can make payments on time to your lenders.
5. Focus on Paying Down Debt
Credit utilization, or the percentage of available credit, makes up 30 percent of your credit score. A good strategy is working to lower your percentage, so you don't look like a borrower who's always maxing out their credit lines.
Credit card companies want you to pay them back. Start with giving them a call and work out if you can negotiate your debt.
You may be able to get a temporary lower APR, a stable payment plan, and possibly a debt settlement. The worst-case scenario is they do nothing to help you, but you will not be penalized for asking.
Do the same for your mortgage and auto lenders. You may be able to refinance your auto loan to decrease the amount you owe every month. Your mortgage may be a little more inflexible but keeping up your communications with your lender can reveal some options you didn't know you had.
If you have extra spending money due to cutting out extra expenses, start applying that money to paying off the bills that report to credit bureaus.
You can use the avalanche method to pay off the debts that have the highest interest first. Pay the minimum each month on all your debts and focus as much as you can each month on the highest APR debt. Once it is gone, focus on the next debt with the money you have freed up, and continue this process till all your debts are clear.
Or you can snowball your debt payoffs by paying the smallest debt off first. While it may not be the most cost-effective way to clear the debt, it can yield results the fastest and get you the win you need to clear out all your debt. Once the smallest debt is paid off, take the money you have freed up to pay off the next smallest debt.
It is possible to pay off your debt, it just takes time. We offer a handy calculator to help you see what you need to pay each month to clear out your debt. Patience and persistence will help you win.
6. Don't Take on More Debt
New credit makes up 10 percent of your credit score. Essentially, if you open up too many credit lines too quickly, it sends a red flag to lenders.
While tackling your current debt, don't get distracted with successes along the way. Clearing out a debt or two isn't permission to take on more debt. That will put you back where you were at the beginning of the process.
If you are knocking down debt after debt, you are setting yourself up for success. Keep the momentum going. Keep paying off your home, become the owner of your vehicle and keep it on the road, and stay focused.
Come meet with a WEOKIE Trusted Advisor. We are here to help you find the best place to save and build your wealth.
If you are struggling with bad credit, making smart financial decisions will boost your score faster than you realize. Tackling your debt now will put you on the right track to become financially stable.
If you are looking to boost your credit score, following these tips is a great start to get you back on track. Check out our free guide to get more details on how to boost your credit score, especially if you are looking to get a new vehicle soon.
As always, WEOKIE is here to help you reach financial stability and security. Stop by any one of our branches to speak with a trusted advisor, or call us at 405-235-3030.
Federally Insured by NCUA