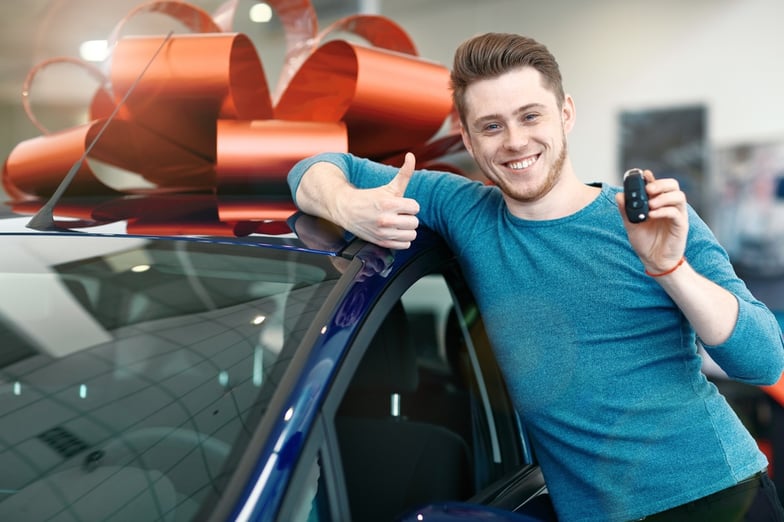 Buying a new car can sometimes require a hefty time and money investment. There are several strategies you can employ to get the best deal.
You're well on your way to saving thousands in the car buying process just by doing some research before you head off for a test drive.
Begin the buying process by determining your budget.
The biggest mistake you could make in the car buying journey is not setting your budget before you visit a dealership. A salesperson's primary goal is to get you to buy. They will throw a lot of information at you in a short period. Your budget is going to keep you grounded and prevent buyer's remorse.
A budget isn't just about monthly payments. An accurate budget will include all the variables like insurance costs, monthly gas expenses, the total cost of the vehicle and those monthly car payments. It seems like a lot to consider, but we have a handy payment calculator to make the job easier.
Consider buying used instead of new.
Buying a new car doesn't mean the car has to be new, it's just new to you. Used, specifically certified pre-owned, is one way to purchase a reliable vehicle at a discount. You'll also save a little on insurance and taxes too.
The most significant advantage of purchasing a used car is someone else was responsible for the hefty depreciation costs. You can have a car with only a few thousand miles on it, and save thousands of dollars in the process. Another advantage to buying used is your budget can buy a better car.
There are a few disadvantages like you might not have the latest and greatest in technology. If you plan on buying a car older than five years, you might run into some financing challenges. You also don't know how the car was treated by the previous owner. The best strategy is to do your history homework to make sure you're getting a well-maintained vehicle.
Negotiate with the dealer.
The price listed on that paper in the window is the Manufacturer's Suggested Retail Price or MSRP, which means there is negotiating power.
When you find the car you want, ask for the invoice, which is the price the dealer pays for the car. But remember, the dealer may be getting some further discount on the vehicle not listed on the invoice. Your goal now should be to get as close to that invoice price as you can.
Are you a recent graduate? Are you a Veteran? Are you a first-time buyer? Are they having a year-end sale? All of these things and more are ways you can negotiate the price of your new vehicle.
Don't be distracted by add-ons.
Just say no, or at the very minimum ask the dealer how much a particular add-on will cost you. An add-on might be undercoating, alarm systems, window tinting, leather seats or warranties. Add-ons are the last step in the sales process, so you're likely going to be tired and ready to leave the dealership.
These special features can cost you big, so you need to find out what your default answer is when you're experiencing decision fatigue at the end of purchasing journey.
They might just ask you if you want it without telling you the price. It's going to be your responsibility to ask questions about the cost of an additional feature or warranty.
Make a healthy down payment.
A strong down payment will save you both in monthly payments and the total amount you pay in interest. Reducing your monthly burden could be a load off your shoulders.
Another benefit of a large down payment is preventing the vehicle from being upside down - or owing more than it's worth. When you buy a new car, its value dramatically diminishes when you sign the paperwork. Typically, it takes a year or more for the value to be worth more than what is owed.
A healthy downpayment could also prevent the need to purchase GAP insurance. If you owe more than the car is worth, and you wreck it in the first year, then after the insurance company pays for the damage you might still owe money on your loan if you don't have GAP insurance.
Shop around for the best interest rates.
When you buy from a dealer, you will be offered several introductory interest rates that may sound good at first. It is unlikely that their rates can match what a bank, let alone what a credit union can offer.
Shop around before you start car shopping. You should even try to get a pre-approved car loan. When you show up at a dealer with your financing already in place, then you're telling them you mean business.
The dealer will offer to finance after you've been on several test drives and have a car picked out. Just like add-ons, you might be experiencing some decision fatigue at this point. If so, you might be tempted to take the easiest option, but remember, it might also be the most expensive one.
The salesperson will probably try to make you feel time crunched. They'll make you think you're looking at a one-of-a-kind car, and if you don't purchase in the next 30 minutes, then you'll miss out. Don't fall prey to this strategy. Take your time. Call a credit union, check with a local bank and find the best deal on a car loan.
The best way to not break the bank when you're shopping for a new vehicle is to become immune to pressure. Don't think you only have one chance or one option available to you.
Other variables could increase the expense.
You'll need to calculate how much you'll owe in state taxes. In Oklahoma, A new vehicle is 3.25 percent of the purchase price or taxable value (MSRP). A used car is $20 on the first $1,500 and 3.25 percent on the remainder. There is also an additional 1.25 percent sales tax on a vehicle.
So, for a new vehicle valued at $25,000 is $812 plus an additional $312.50 in sales taxes, so you're likely to pay $1124.50 in taxes alone on a new vehicle. A used car would be in comparison about $1,080 since the first $1500 is taxed at $20. It's not massive savings, but it is still more expensive to buy new.
Before you pack up and head of to a dealer. Download our free ebook, it outlines all the terms you can expect to hear from a salesperson. At WEOKIE we have competitive auto loan terms and rates. Contact us at (405) 235-3030, 1 (800) 678-5363 or visit us online at www.weokie.org for additional information.
Federally Insured by NCUA