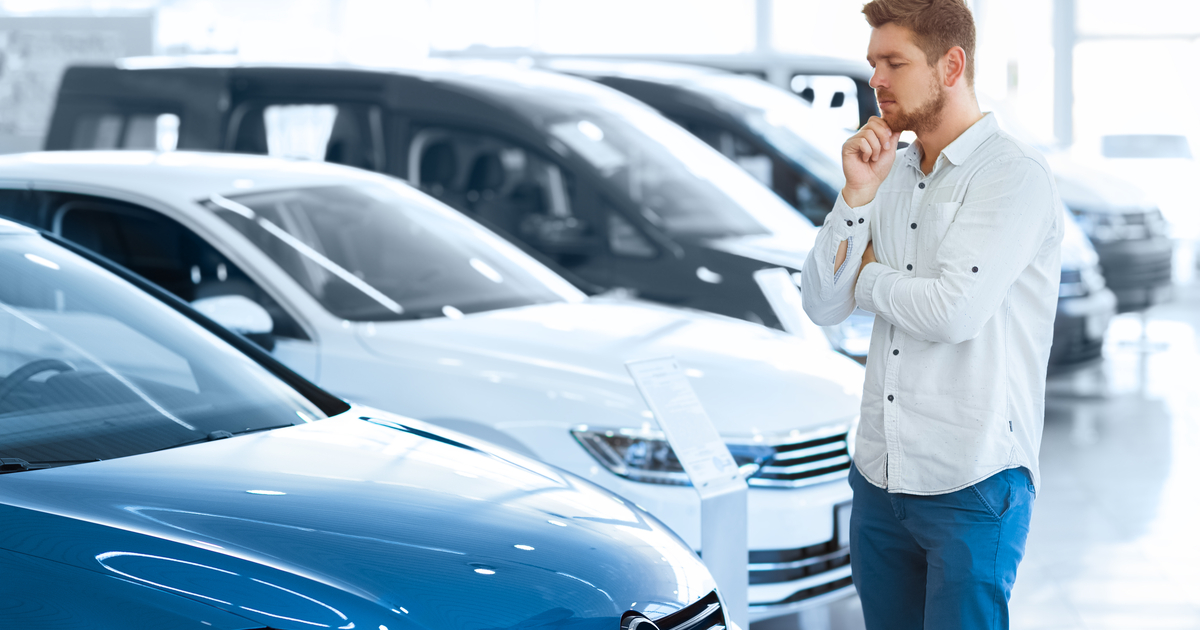 Is a new vehicle purchase on your radar this year? The thought of that new car smell is motivating enough. Reaching your goal is going to require saving for a down payment and any additional expenses that come along with a new car.
The good news is you are not stuck with the sticker price you see on the window or find online. With careful planning and some negotiating skills, you can be one of the many drivers who save loads of cash when they buy a new vehicle.
With our credit union tips, we can give you ideas to save big on your next car purchase.
(For more financial strategies, download our latest free guide!)
1. Outline Your Budget
The first thing you should do before seriously looking for that new car is to take a good look at your finances. Gather up your bills and receipts and identify your expenses.
Start with your pay stubs. Find out how much you really are bringing in each paycheck. Multiple incomes can be more complicated to manage but they can provide greater financial flexibility.
Sort through the necessary items like your rent or mortgage, utility bills and student loans or existing auto debt. How many online services are you paying for and do you really need Amazon Prime, Netflix, Hulu, and Spotify?
Budgeting your money now will help you eliminate expenses that are going to limit your savings potential.
2. Save for a Vehicle
Cutting out random small expenses each month can give you back a little extra money, but what do you do with it? Avoid the temptation of going on an expensive vacation or buying more clothes or jewelry. If you are looking to save big on your next car, you need to save your money first.
Open up a savings account to begin storing that extra cash each month. Sometimes it helps to create an auto draft to ensure you keep up with your savings habit.
Try to determine how much of each paycheck you can realistically dedicate to your savings goal. Saving money can seem like a chore, but it will pay off in the long run when you go get your new car.
3. Research the Right Model
There are a lot of things you can just buy on a whim. Cars typically aren't one of those things. If you are looking to get the best deal on a new car, you are going to have to do some research.
Owning a car takes time and money, even after you take it off the lot. Oil changes, tire rotations, and other maintenance.
Pro tip: never buy the first in a new generation of cars. Always wait for a second or preferably third model or later.
4. Plan for Your Purchase
Budgeting and saving can be the most boring aspect of getting a new vehicle, but once you have those steps under control, you can start to strategize.
How much are you planning to put on the down payment? Where are you going to secure your extra funding? Do you have a plan for insurance yet? Don't forget that you will have to pay for the taxes on the vehicle too.
While showing up to the lot and driving off in a new car sounds easy, if you are looking to save big, you must go in with a plan. Secure your funding before you buy. We suggest checking out the unbeatable rates a credit union like WEOKIE can offer.
While that advertisement for 0% interest and 0% down sounds enticing, few people qualify for that. However, that doesn't mean you have to settle for whatever the dealer has to offer you. WEOKIE offers some of the best interest rates and terms in the region. You are giving away money if you don't come talk with us.
5. Shop Around
Convenience says that you need to head down to the dealership right up the road that is advertising on billboards, TV and radio all the time. If they can afford to advertise that much, they must sell a lot. If they sell a lot, they must have the best deals, right?
Not necessarily. You have the greatest shopping tool at your fingertips, and you are using it to read this blog right now. The internet is a treasure trove of shopping goodness that will allow you to find the best deals on exactly the make, model, year, and color of car you want. If you have the luxury of mobility, you may be able to get a better deal on a vehicle if you explore the options outside of the city.
If you can't get out of town to get a better deal, you still have options available to you. An easy way to leverage the internet for your benefit is to send an email to all of the dealerships within range and tell them you are looking to buy. Specify the exact car they have in their inventory and tell them you will work with whoever gives you the lowest bid. Just don't tell them who they are bidding against.
6. Negotiate a Good Price
Once you have a car lined up to buy, brush off your negotiation skills. Just because they said they have the best deal for you doesn't mean you are done just yet.
Every dollar you can knock off the deal is money back in your pocket. Apply a military discount, recent graduate discount and any clearance event specials they have going on.
Go over the car with a magnifying glass if you have to. Any nick, scratch, or blemish is something you need to point out.
Do they offer free oil changes for a certain amount of time? How much does that cost? Can you take that price off the total? If you have the tools, time and know-how, why would you pay the extra money for a service you won't be using?
7. Don't be Afraid to Walk Away
Get the car you want, get a great deal and then walk away from it. Sounds crazy, right?
Let's think about it for a moment. You are about to jump into a significant financial decision. You are going to be attached to this deal for several years at least, and in the best of situations for the life of the car itself.
Take a moment to walk away from the table and clear your head. Making a decision once your emotions have settled down will give you a chance to think clearly.
That is exactly what the dealership doesn't want you to do. Walking away could mean a lost sale to them. So, in addition to you getting a moment out of the high-pressure environment of the sales pitch, they will probably run off to get a manager to help close the deal. This may mean additional incentives and offers like more money off or adding back that oil change for free.
Walking away is a win-win for you. You get a moment to breathe while they come up with additional deals for you.
8. Buy with Confidence
When you walk into a dealership, you need to do so with confidence. Having a solid financial plan before you walk in means you know what you can afford and where that money is coming from.
With the knowledge from researching your vehicles, you know exactly what you want and how much it's going to cost. With a reliable lender, your confidence is bolstered, and you will save money now and in the future of your vehicle ownership.
Why stop there? Our financial advisors are here to talk with you about successes beyond car buying. From savings accounts to investing and more, WEOKIE is offering you the tools to achieve financial freedom.
Also, check out our Financial Freedom Workbook. It can help guide you through life's most challenging financial decisions and set you up for success.
*See a WEOKIE rep for details. Federally Insured by NCUA