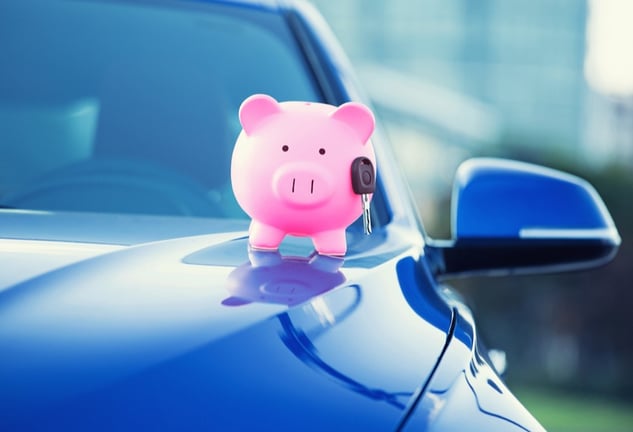 In Oklahoma, a car is usually a necessity, but ownership comes with added costs such as insurance, monthly loan payments, maintenance and gas. If you're hoping to improve your financial health this year, then you'll want some strategies to cut your car expenses.
1. Refinancing Your Auto Loan
The monthly loan payment is one of the largest expenses on a car. Maybe when you bought the car, you didn't shop around for better interest rates on the loan, or you've had a credit score improvement in the last few years.
There are several reasons to refinance your loan, but the driving purpose is to lower the monthly payment. It's also important to know how much you owe on the car compared to how much it is worth.
If you owe more than the car is worth, refinancing may not be the best option. Likewise, consider the age of your vehicle and whether or not you can receive a decent loan rate on it.
Don't worry, WEOKIE has you covered. There are several perks to refinancing with us. Great interest rates, loan flexibility and GAP coverage are some of the things you may not find elsewhere.
2. Paying More Than the Monthly Minimum.
Are you bringing in a little more now than you were when you first got your car? You can save hundreds or thousands in interest by paying more than the minimum each month.
If you're looking for extra cash to make an additional payment, then take some time to brainstorm where you can cut expenses like stop for coffee less often, opt to bring your lunch more regularly or start buying groceries in bulk. Ten or fifteen dollars a week can be thousands of dollars saved on your loan.
The best part of paying more than the minimum is it's not a requirement. If your budget is tight one month from an unexpected expense, then pay the minimum and go back to overpaying the next month.
3. Use Cash Back Credit Cards for Gas
If you are good with keeping your credit card balances clean, use them to your advantage. Find a card that matches your lifestyle. If your commuting to work every day, then grab a few cents back at the pump with the right credit card. You can use the card to offset other expenses or enjoy a few gallons of free gas.
Some gas stations also offer loyalty programs, which means you can double your efforts. Over time your regular purchases will add up to a nice bonus.
4. Downsize Your Vehicle
If your vehicle is too large for what you need, it may be worth considering selling it or trading it in for something that's a better fit.
The big SUV is okay to drive when gas is cheap, but these days you never know what the gas prices will be from month to month. A big vehicle might just be wasted space eating away at your wallet every time you're at the pump.
Maybe your car isn't a gas guzzler, but you're taking it to a mechanic too often. If you find yourself sitting around every month or so for small repairs, you may be surprised at how much you are spending annually.
Sometimes downsizing means finding a more economical vehicle. A cheaper car might give your budget some breathing room. Be sure to consider what your car is worth. If you currently owe more than it's worth, selling it or trading it in may not be the best idea just yet.
For instance, if you just bought your car within the past year, it is likely that you will be unable to get all of what you owe for your vehicle. Keep making your payments, and pay more if you can.
If you think you are ready to downsize your car into something more affordable, WEOKIE has you covered with the Auto Loan Calculator. It looks at the entire cost of ownership, rather than just the month to month interest rates.
5. Shop Around for Insurance
Insurance doesn't have to be expensive. There are so many insurance options out there for you and your car.
If it has been a few years since you've reviewed your insurance plan, then it's time to take a look. It's easy and free. If you have a little bit of spare money in your account for an accident, adjusting your deductible to lower your monthly rates can make a difference.
Keeping liability insurance is a must. However, if you have an older car, that you aren't making payments on anymore, perhaps consider reducing or removing the collision coverage.
Maintaining a clean driving record can also help you get the best rates. Check and see what bonuses you can get for safe driving discounts. Being accident-free and keeping clear of traffic tickets can save you bundles on your insurance alone.
WEOKIE also offers members insurance through Memberhaven Insurance Agency.
6. Slow Down and Save on MPG
Slowing down can be beneficial in many ways. Going the speed limit gives you more reaction time to avoid an accident. Wrecks are expensive, so give the car in front of you a little extra space and don't drive distracted.
Driving the speed limit will keep you from paying hundreds in tickets. If you are running late, going an extra five or ten miles over the speed limit will not get you to your destination much faster.
The faster you go, the more fuel you will burn. Slowing down just a little can help save you hundreds or even thousands of dollars a year on fuel costs. The reduction in speed can also extend the life of your tires, brakes, drivetrain and your engine.
It also pays to slow your start. Don't floor it when the light turns green. Ease off the starting line and into your acceleration. Not only does this help reduce your fuel costs by 25%, but it can reduce the wear on your engine and transmission too.
7. Keep up with maintenance
Maintaining your car is one of the best ways to lower the overall cost of ownership. Make sure to change your engine oil and filter every few thousand miles. This will help extend the life of the engine.
Check the tire pressure about once a month. The pressure in your tires can fluctuate with the seasons or can diminish with heavy traveling. Keeping the pressure in check can help you save gas and can extend the life of your tires. Be sure to rotate your tires as well!
Washing your car can serve several purposes. It not only helps keep your car looking new, but it removes harsh road residue from the body that can be a focal point of corrosion and rust.
8. Research before buying
The best offense is a good defense. Keeping monthly car expenses low begins with choosing the right vehicle.
Take a look at reviews on the car. Sometimes it pays to wait for the end of a model year to get your vehicle. The best deals come when dealers are trying to make room for new stock. Take a look back at previous model years and see if they are having any issues. Sometimes, problems in the past can still exist in the present model.
Look at similar makes of the vehicle from other companies. Compare your needs with the features of each car. It's important to remember cost of ownership can vary from brand to brand.
Do you plan on buying a new car this year? Download our ebook for more strategies on purchasing a vehicle.
Federally Insured by NCUA