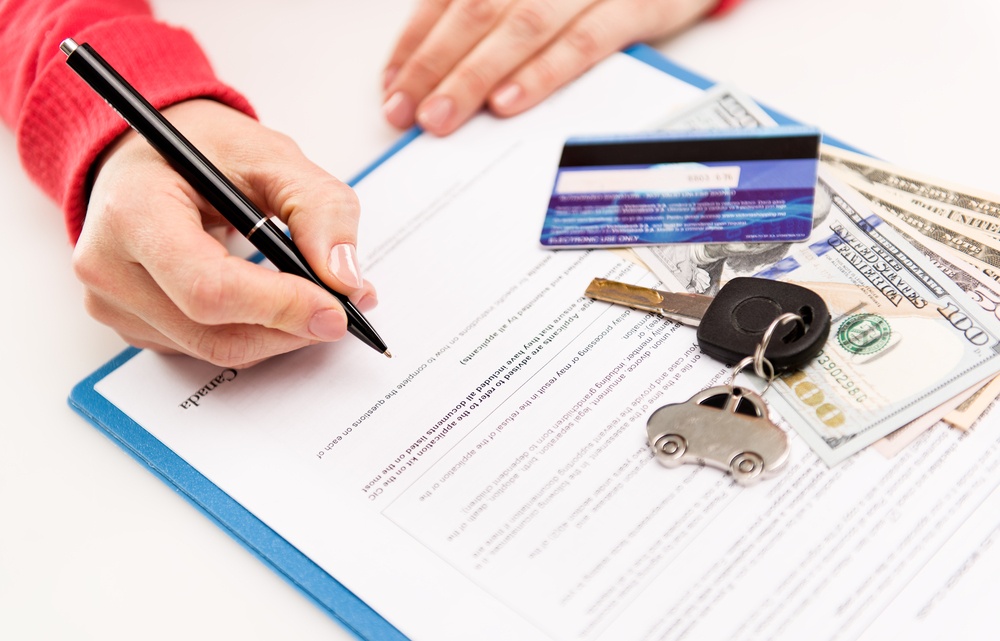 There is a learning curve when it comes to purchasing a new car. A lot of people approach the process with dread because there are so many opportunities to make a bad decision and pay for it for years in the form of a more expensive loan or unnecessary warranties.
The best way to avoid common auto loan mistakes is to recognize them, and then make a plan of action so you can avoid similar pitfalls. Here's seven errors you can easily avoid.
Mistake #1 - Not Regularly Checking Your Credit Score
The first mistake people make before getting an auto loan is not checking their credit history. An error, bad history or no history could keep you from an affordable interest rate on your auto loan.
If you know early that you have no credit history, you can start building it before you're ready to buy. Similarly, if you have an error it could take one to three months to remove it (sometimes longer).
Knowing what might be damaging your score can help you repair the issue. You may also need to prepare a down payment because of a lower credit score.
So, how can you avoid this mistake? Simple, know you credit score by checking it.
Annualcreditreport.com is the federally mandated page that gives Americans a free credit report from all three credit reporting bureaus every year. With this knowledge in hand, you can correct any errors and set yourself up for success.
Checking your credit score is one of the easiest things you can do before you start shopping for an auto loan.
Mistake #2: Failure to Set a Budget
Without a budget, many people spend more money than they bring home. Many people are put off by the chore of taking into account all of their expenses. It can take a lot of time and effort to come up with a budget.
So, how can you avoid this mistake? Simple, make a realistic budget for your next car purchase.
It might be easier said than done, but you won't regret taking the time to get familiar with your spending habits.
Start this process by gathering all of your expenses. Find out where your money is going. Take into account your rent or mortgage, utility bills, groceries, and even entertainment spending. Give yourself some room for surprise expenses.
Finally, subtract your expenses from your monthly income. What's leftover? Do you have enough cushion to handle a new auto loan and any unexpected costs?
Mistake #3: Not Shopping Around for Financing
Dealers know the science of making car buying easy, and a part of their formula includes dealer financing, so you don't have to talk to anyone else but the dealership. You could lose hundreds if not thousands in excessive interest every year.
So, how can you avoid this mistake? Talk to several lenders not just the dealership financing department.
Find out what deal you can get on an auto loan from a few different places. It's the best thing you can do for yourself. If you're expecting a hard credit check, be sure to do your loan shopping in under 2 weeks.
Mistake #4: Focusing on Monthly Payments Instead of Total Price
A dealership knows that they can adjust several variables to make a monthly payment fit nearly any budget.
A car that is $10,000 out of your ideal budget doesn't seem like much when you expand your payments over seven years instead of five.
Stretching out your term may give you back a few dollars each month, but you're stuck with a more expensive vehicle than you were planning on. A lot can happen to a car during the term of your loan, and you'll most likely pay a higher interest rate on a longer term.
You'll also need GAP insurance for longer, which will also increase the total price of the vehicle.
So, how can you avoid this mistake? Keep a strong focus on the total cost of the car, not just the monthly payment.
The shorter term means higher monthly payments, most likely lower interest and you'll own the car sooner. Longer terms means lower monthly payments, potentially higher interest rates and it'll take longer to own the vehicle. Neither one of these options is inherently bad, it's easy to get into financial trouble with a longer term.
Mistake #5: Failure to calculate the total cost
How much interest is your loan going to accrue over its term? What do you expect to spend in maintenance, gas, tags, taxes, and insurance? All of these factors will affect your monthly budget, and if you're planning on just a car payment, you might be surprised when your hit with a bigger bill.
So, how can you avoid this mistake? Create a list of all your new expenses associated with the purchase.
WEOKIE has several free calculators that let you see the total cost of your loan. While it can be nice to have lower payments each month, you need to calculate the total cost of the vehicle after interest rates, and the cost of other variables associated with vehicle ownership.
Mistake #6: Deciding not to take the car on a test drive
Technology is great. You can stream your favorite car show online or watch reviewers drive all sorts of cars and give their perspective. There is a reason you follow these programs: they resonate with you. You can just take their word that the vehicle of your dreams is everything it claims to be. But, when you drive off the lot, sitting in it for the first time, you start to notice it's not as great as you thought it'd be.
So, how can you avoid this mistake? Always take a test drive before a big purchase.
Even buying a new car, you need to take a look at it. Go visit it and get to know it. Test drive it, then go home and sleep on it.
Go test drive it again. The only thing it costs you is time and perhaps the sales manager offering you additional deals to get you to buy right then, but that's a good thing too. The worst thing that could happen is that you find that you don't like the car after all, but it's better to know that before you purchase it.
Mistake #7: Being Uncomfortable with Walking Away
You might head to a dealership before you know your credit score, completed any serious research or talked to any other lenders. The dealer might show you to a brand new sports hatchback, and you think it's within your budget.
After a test drive, you have to buy it now, right? Besides, the salesperson is tossing out some numbers that sound really great! How bad could it be?
Stop, before you buy, know that any current deal will still be available in some form in the future. Today isn't the only day to land a good deal, no matter how much the salesperson wants you to feel that way.
So, how can you avoid this mistake? Always give yourself permission to walk away.
If a lender is being unreasonable, if a dealer is being pushy or if the car is not what you thought it would be, walk away. You need to do what is best for you, not your lender, not your dealer.
The less time you spend trying to work with people who don't have your best interests at heart, the more time you have to find people who do. When you are wanting to get into a new car as soon as possible, you need to be ready to cut out the fluff and the niceties and walk away.
Even if you do find a car you want at the price you want, you can still walk away and come back later when you're not making a decision on emotion.
Mistakes happen most often when a buyer feels rushed, but sometimes you have to make a car purchase because you're reliable set of wheels isn't so reliable anymore. If you're trying to make a big decision quickly, then you should download our free ebook on how to buy a car in 30 days or less.
If you have any questions on financing, you call one of our trusted financial advisors at 405-235-3030 or 1(800) 678-5363.
Federally Insured by NCUA