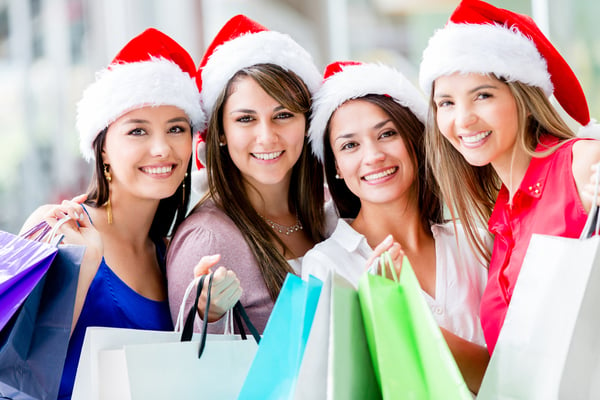 With the Christmas tree back in the attic and the lights off the house, you're probably thinking about what's to come in 2021. The new year is a great time to take inventory of your current assets and expenses to evaluate what you need to do to reach your financial goals.
Here's a secret. When it comes to finances, having a great year isn't about one or two habits. Instead, it's the accumulation of several small behaviors. We have a few secrets to share with you, and you'll have your finances in shape in no time.
1. Pay off your credit cards and keep paying them every month.
Start by paying off any holiday debt on your credit cards. Think of credit cards as short term loans for the money you already have and use them as you would a check. It can be easy to slide your card and forget it. Remember, the end of the month always comes. If you do find yourself owing more than you expected, it's cheaper to pay off the debt sooner rather than later.
The secret isn't paying off your debts because that's obvious. Instead, it's all those points you could be collecting all year to help with extra expenses. Most credit cards offer some a reward like airline miles, merchandise or points that have monetary value.
Mindfully putting your ordinary expenses on one credit card and paying it off every year can add up significant savings. You can then use those points at the end of the year as a little extra buffer from holiday traveling and gifts.
Did you know WEOKIE offers a Visa card that pays 1% cash back on all purchases?
2. Make a financial plan for the year.
If you wouldn't drive to a new place without your Google or Apple maps giving you directions, then you shouldn't go through a new year without creating a financial plan to lead the way. The plan prevents you from spending money on unnecessary items when you really should be saving for something else or paying off old debt.
Remember, every time you say yes to one expense, you're saying no to another. You have
a certain amount of resources and you need to spend them wisely.
A financial plan will include your current expenses, savings and income and where you'd like to be after a specific timeframe. For example, you might have a goal to increase your income in 2018 or to reduce your expenses on frivolous goods like eating out or buying coffee.
It will also include how much you'd like to save. For example, you might want to save $15,000 this year and $15,000 next year so you can afford a 20 percent down payment on a home.
Just be sure to set your financial goals reasonable for your personal circumstances.
3. Keep a record of all your expenses.
Data-driven decisions will keep you from making false assumptions about your finances. Get a notebook, build a log with excel or use software to help you keep track of everything you're spending. Include things like your cell phone bill, car payment, rent or mortgage in your records. You might be surprised by your findings.
4. Use that bonus to clear out any debts
If you receive a year-end bonus, the extra cash can be tempting to splurge on something shiny and new, you should instead use the money to pay off debt. Put it toward a student loan, zero out your credit card or throw in an extra car or mortgage payment. When you see those balances going down, you will be glad you spent it wisely.
Paying off an extra month here and there can drastically reduce the amount you owe on your loan. The bonus money will turn into a big payoff later on. Plus, you can keep a healthy credit score.
5. Join reward clubs at your favorite stores.
Sure, those rewards clubs might get you on a couple of mailing lists, but they can also offer significant discounts. If you find yourself shopping at one store or getting gas at one location often, then it might be time to opt in to their loyalty program.
Over the course of several months, you could save up enough points for a free tank of gas or a percentage off your next purchase. It may seem insignificant, but it's the little habits over the course of an entire year that'll make the largest difference.
6. Start saving for you or your kid's education.
There are a few great ways to save for college. One of the safest ways to put money away and still have it grow is to put it in a savings account. There is hardly any risk involved, and if you put it in a credit union, you can see it grow along with your deposits.
A 529 college savings plan is a great way to save for school and can give you an advantage on your taxes. A little known secret is you don't have to spend a specific amount or wait a certain length of time to start seeing benefits on the account. Even if you or your child is starting college next year, you can put back savings into a 529 plan.
Also, you can change the beneficiary of the account. So if one kid grows up and decides college isn't for them, you can dedicate it to another child or even a niece or nephew. Learn more about 529 plans by visiting ok4saving.org/.
7. Earn more on your savings accounts.
One of the best ways to make sure you have emergency cash is to deposit regularly in your savings account. That emergency cash can come in handy if you have an unexpected expense like a blown tire on your car or if your water heater stops working.
WEOKIE is a great place to open a savings account, because the credit union is not-for-profit, which means higher interest payments in your account.
Another way you can help grow your money is investing it. There are several excellent options to help you invest, and WEOKIE investments and financial services advisors are ready to help you.
8. Refinance your car or home.
If you find you're paying too much on interest for your auto loan, then you can reduce your expenses in 2018 by refinancing your vehicle through WEOKIE.
Refinancing your car is the right decision if your credit has improved since you purchased it, you didn't shop around for the best rate when you first bought the vehicle or you need to lower the monthly payment. Refinancing your auto is easy and can be done electronically.
9. Always know your credit score.
Ignorance is not bliss when it comes to knowing your credit score. With a low score, you might struggle to find financing for your next car or a new home. If you see your score (even if it is bad), then you can take steps to improve it this year. A great place to start is enrolling in autopay options for your bills.
If you're ready to view your credit score, check out annualcreditreport.com. The federal government requires each of the three nationwide credit reporting agencies (Equifax, Experian, and TransUnion) to provide a free report every 12 months when requested.
Don't feel discouraged if your score is not where you'd like it to be. We can still offer you competitive rates at WEOKIE for your next auto loan, and we can work with you to improve your score.
10. Stay disciplined.
The real secret to financial success this year is discipline. You have a solid plan for the New Year, but don't get off track. The biggest hurdle in getting your finances in shape is sticking to your goals. It's hard, but you'll be thanking yourself when the holiday season approaches.
Federally Insured by NCUA