STAY UP-TO-DATE WITH
ONLINE & MOBILE BANKING
Making sure you have an excellent digital experience is a huge focus here at WEOKIE. We've updated our Online & Mobile Banking platforms, to create a more user-friendly experience for you to access your finances. Read below to see the changes we made and the new features we've added.
We've brought a brand-new look to Online & Mobile Banking!
We've added a fresh coat of paint to WEOKIE's free online & mobile banking, making it easier for you to do more with your money.
The features you know and love are still here, AND we've made significant improvements to our platforms to better our member's experience. View the new overall look, see the continued advancements of features, and enjoy a better digital experience while maintaining your funds.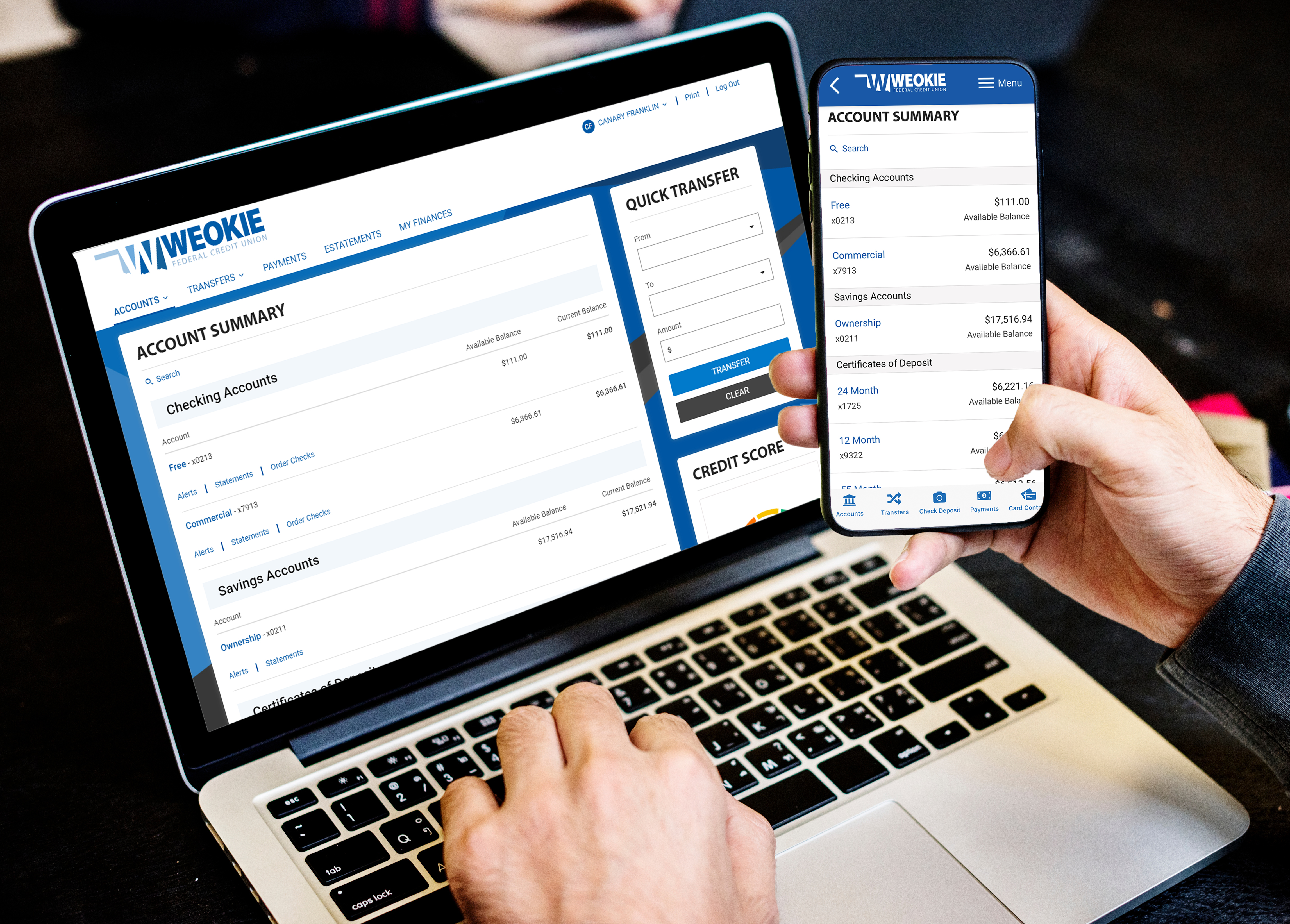 HIGHLIGHTED CHANGES FOR ONLINE & MOBILE BANKING
Listed below are the changes in our updated platforms.
LOGIN CREDENTIALS DID NOT CHANGE AS PART OF THE UPDATE TO OUR PLATFORMS. ALL LOGINS WILL REMAIN THE SAME.
Non-WEOKIE Account Transfer is now called
External Account Transfer
– The functionality of this feature will remain the same, only the name has changed. Existing external accounts will still be available and new set-up is not required.
The Spending feature has been replaced by
MY FINANCES
– You can use My Finances to set savings goals, track budgeting and can add accounts from other financial institutions to monitor their spending across multiple institutions. You will have to re-enter your login credentials the first time you access this program.
Manage Alerts is being replaced by
NOTIFI ALERTS
– The new real-time alert system is called
Notifi Alerts
. You can visit the
Notifi webpage
for full details, including the types of alerts, where you can access them, how to set them up, frequently asked questions, and more. Please note, all previously created alerts will be removed from the platform.
ACCOUNT ACTIVITY
has moved locations
– You can now easily access your account activity by selecting your account on the Account Summary page.
WebConnect Account Download is now called
WEB CONNECT
– The functionality of this feature will remain the same, only the name has changed.
Free, Ongoing Credit Score, Report, and Monitoring with Credit Score
Master your credit standing, with no purchase or credit card required.


Simply
log in to Online Banking or Mobile Banking for an instant, at-a-glance breakdown. At WEOKIE, we aim to help members save and borrow smarter.
ACT NOW FOR THIS SPECIAL OFFER!
EARN UP TO $200*
Open a NEW WEOKIE Checking Account by 12/31/2022 and earn cash bonuses.
WHEN YOU COMPLETE THESE REQUIRED ACTIONS
To enroll in this offer you must apply the promo code GETPAID22 when APPLYING ONLINE.
You may also present the code to a WEOKIE rep when visiting a VISITING A BRANCH.


Opening an account does not guarantee that you meet eligibility requirements.
*Restrictions apply. See link for full details.